A Visit to City Hall
Lessons in innovation from San Francisco Mayor London Breed
I am a MFA student, graduate teaching assistant and a Keller Pathway Fellow. I was honored to be among the UC Davis students who recently met with a leading innovator in the public service space: San Francisco Mayor London Breed.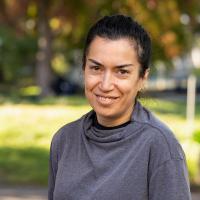 I never considered myself an entrepreneur until I discovered this option at UC Davis. As I learned more, I realized that it was the perfect fit for me. I've always been passionate about problem solving and creating things, and entrepreneurship gives me a platform to turn my ideas into something tangible that can make a real difference in the world.
As a Keller Pathway Fellow, I'm constantly learning from case studies that highlight the strategies and leadership styles of successful change makers. One that particularly resonates with my experience is that of San Francisco Mayor London Breed. 
In the fellowship program, I'm learning how to think creatively and develop innovative solutions to complex problems. Mayor Breed's response to the COVID-19 pandemic is a powerful example of how innovative thinking can make a real difference in people's lives. By declaring a public health emergency and implementing measures to limit the spread of the virus, Breed's administration played a crucial role in making Project Roomkey work in San Francisco. This initiative aimed to provide temporary housing for homeless people in vacant hotel rooms to limit the spread of the virus. Breed's emergency powers also enabled her to help local businesses get back on their feet.
Mayor Breed's approach to public safety also speaks to the innovative mindset that we cultivate in my fellowship program. Her advocacy for supervised drug use sites and her emphasis on finding new solutions to old problems demonstrate a willingness to challenge conventional wisdom and take risks in pursuit of better outcomes. At the same time, Breed emphasizes the importance of promoting public safety without compromising compassion and second chances, which aligns with the values we're learning to prioritize as innovators.
As an entrepreneur, I find the case study of Mayor Breed a source of inspiration and motivation.
Her commitment to making a positive impact on people's lives and her tough management style demonstrate the kind of leadership and vision that's necessary to drive change and build successful organizations.
By learning from her example and applying the lessons of my fellowship program, I'm growing as an innovator and entrepreneur. I'm developing the skills and mindset to identify new opportunities, take calculated risks, and develop innovative solutions that create value for people and organizations.
Through my fellowship, doors are opening for me to explore new possibilities and pursue my goals as an innovator and entrepreneur. By connecting with mentors, collaborators and resources, I'm building a network of support that can help me turn my ideas into reality. The case study of Mayor Breed shows me that with the right mindset, strategy and leadership, anything is possible.
I resonated most with Mayor Breed's authenticity and vulnerability during the group's conversation.
I appreciated how the mayor shared her personal struggles and challenges in life, which made her more relatable and human. This resonated with me because I also value honesty and openness in my relationships and communication.
The most interesting aspect for me was learning about the challenges and trade-offs that come with leadership roles. I realized that being a leader requires making difficult decisions that may not always please everyone, but the focus should be on what is best for the community. This insight helped me understand the importance of having a strong sense of purpose and values in my career.
The most unexpected thing for me was learning about the negative feedback that Mayor Breed received for her policies and leadership. It was eye-opening to realize that criticism and opposition are part of being a leader and that it is essential to develop resilience and not take things personally.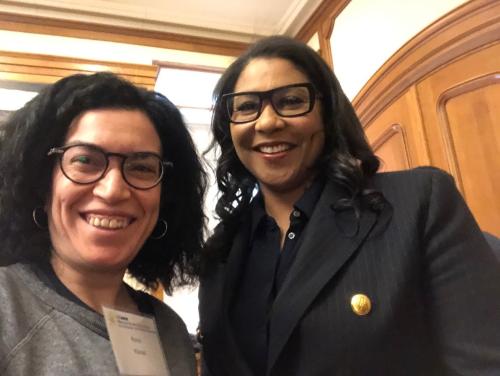 Overall, the visit gave me new insight into the complexities of leadership roles and the importance of authenticity, purpose, and resilience. It also showed me that leaders can face criticism and opposition, but they can still make a positive impact on their communities if they stay true to their values and mission.
What I found most memorable about the case study was the story Mayor Breed told of meeting with a little boy during her public visit. The little boy asked his mom if a man could be a mayor, and it was heartwarming to see how this encounter could potentially shift the gender inequality in politics after years. It gave me hope that one day, women will no longer be questioned or doubted in leadership roles simply because of their gender.
More about our visit with Mayor Breed
About Rova Yilmaz: 

Pursuing Passion for Innovative Clothing Design
I am an aspiring entrepreneur with a passion for designing functional and smart clothing that can improve body health and muscle development. My background is quite diverse, as I hold a Master of Business Administration, a B.S. in civil engineering, and an AAS in fashion design.
After completing my undergraduate studies, I worked in various entry-level roles in the fashion industry in New York City, gaining valuable insights into the business side of the fashion industry and honing my skills as a designer.
However, I still felt that there was something missing in my work, and that's when I discovered my passion for functional and smart clothing design. In my MFA program at UC Davis, I am working on several projects related to microgravity resistance clothing, clothing for better body posture, and functional clothing with embedded technologies.