Follow these guidelines to register for the Little Bang! Pitch + Poster Competition! 
Checklist 
To compete in the Little Bang! Pitch + Poster Competition, complete and submit the following required materials through StartupTree by February 8, 2023, by noon:
Team Registration | Click here to complete your team registration.
Customer Call Summary | Upload with your registration in StartupTree.

PDF of Poster | Upload with your registration in StartupTree.
Poster for Printing: | Click here to complete your order.
Our 2022/23 Little Bang! competitions are now over. We look forward to seeing you in 2023/24.

 
The Little Bang! Pitch + Poster Competition is open to any currently enrolled student at the high school, undergraduate or graduate level in California. The competition is designed to help participants define their business idea and communicate it concisely using a poster and short pitch. Up to six awards available per competition. This is an entry-level competition; no business experience is necessary.
The Little Bang! gave us the opportunity to communicate to new audiences about the student-university disconnect and highlight how Buzly combats this. It also gave us valuable feedback and a space to strengthen our foundation.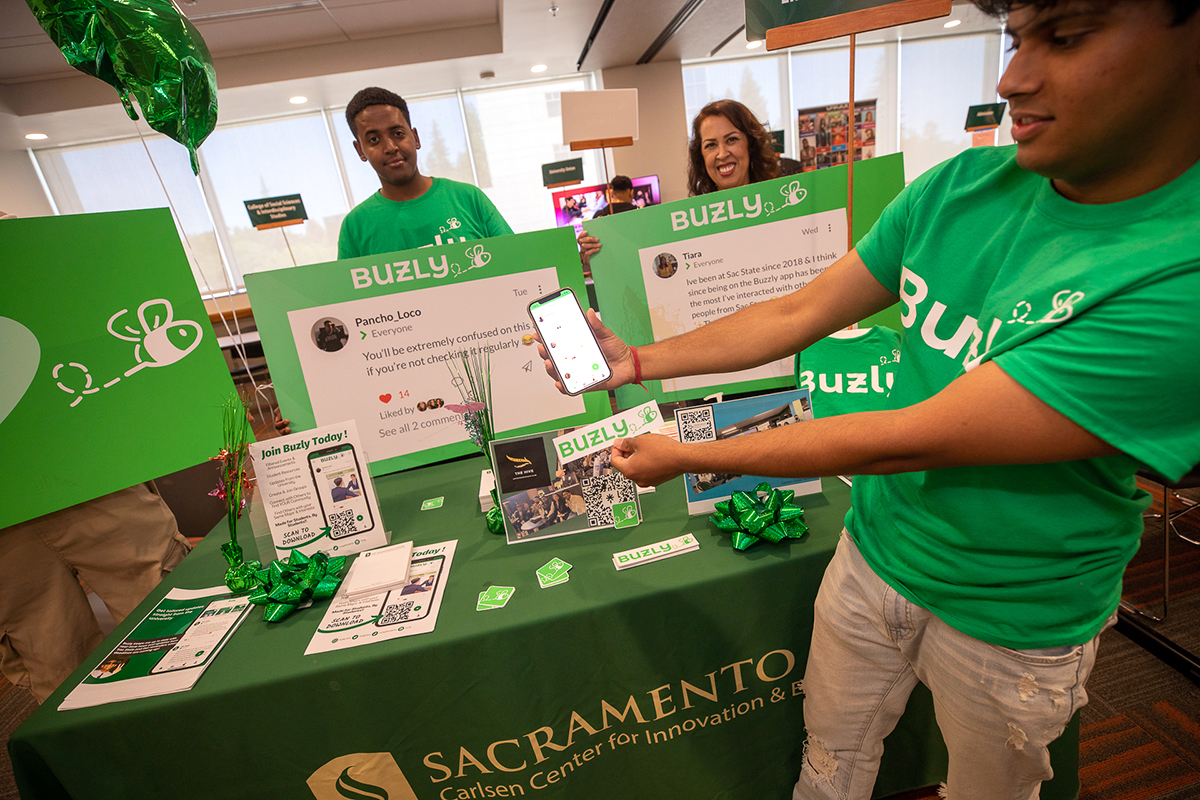 Competition Guidelines and Resources
View the competition guidelines
Participation and Submission Guidelines

The UC Davis Institute for Innovation and Entrepreneurship will share all contestant posters publicly on our website prior to the competition. On the night of the competition, you will introduce your poster to other contestant teams and spectators for informal feedback, questions and comments.

All participants and spectators will hear each team's 90-second pitch.

You are required to submit your poster, pitch and 5 customer calls documented on the Customer Call Summary to compete in the Little Bang! competition. You must upload these when registering your team.

The deadline to participate is February 8, 2023 at noon. 

Note to Past Competitors
* If you competed in a Little Bang! competition in the past academic year and your poster did not receive an award, you may refine it and/or register for this upcoming competition with a new poster.

* Any business idea that won a Little Bang! award in a past academic year is not eligible to compete. 
Poster Requirements and Templates

Posters must be presented in a 36" by 48" format (portrait or landscape). Use a logo, pictures and graphics wherever appropriate. You are required to include (but are not limited to) the following information:

Business idea (overview): Describe the business in 1-2 sentences, succinctly summarizing the important information indicated below.

What (problem and solution): Describe the problem you are solving, and how your business idea will address that problem. Incorporate what you learned from the 5 customer calls you made.

Who / Where (target market): Describe your target market, including the primary users of the product/service and the intended customers (i.e., purchasing decision makers).

How (differentiation): Describe what sets your business idea apart. If someone is already providing a similar product/service, how is your solution better or different?

Download vertical poster template      Download horizontal poster template
Poster Submission Guidelines

Participants who submit their posters according to the following guidelines and deadlines will have their posters printed free of charge for the competition.

How to submit your poster for printing:
* Submit your poster directly to UC Davis Reprographics by February 8, 2023, at noon.
* Go to UC Davis Reprographics https://reprographics.ucdavis.edu/large-format/order
* Enter Contact Information:
   –  Enter your name and contact information.
   –  Enter "Little Bang! Pitch + Poster Competition" under the recharge number
   –  Enter "Pickup at Hoagland Hall"
* Enter Project Information:
   –  Title of Project: Little Bang! <enter your team name>
   –  Expected Delivery Date: No later than February 14, 2023
   –  Number of Large Format Files: 1
   –  Number of Copies: 1
   –  Poster Size: 36x48
   –  Type of Material: Presentation Bond
   –  Lamination Options: None
   –  Mounting Options: None (poster boards are provided the night of the competition)
   –  Finishing Options: None

Teams will be notified by UC Davis Reprographics when their poster is ready for pick up at the Hoagland Hall UC Davis Reprographics location. Each team is solely responsible for submitting their poster to Reprographics, picking it up and bringing it to Gallagher Hall on February 16, 2023.
Pitch Requirement

Prepare a 90-second pitch to deliver to spectators and judges during the competition.  
Customer Call Requirements and Templates

As you prepare for the Little Bang! Pitch + Poster Competition, use the Customer Call Summary Template provided on the Little Bang! webpage. Ask questions of at least five people (potential customers) to test whether you are working on the right problem and making accurate assumptions regarding your business idea. You are required to integrate this information into your poster and submit your completed Customer Call Summary as part of your StartupTree submission. 

Download customer call script     Download customer call summary template 
Rules and Regulations

* Entrants must adhere to all participation and submission guidelines and deadlines.

* Ideas submitted as part of a team's new business venture must represent the original work of the team members.

* Only one submission of a new business venture per team/individual is permitted. Each submission must include a Customer Call Summary and a 36" x 48" poster uploaded to StartupTree; a printed poster (free when submitted following the guidelines to UC Davis Reprographics by the deadline); and a 90-second pitch delivered during the competition.

* Individuals may be a member of only one team. Teams may be as small as one person; there is no maximum number of team members. Typical team size is between one and four members.

* The university reserves the right to disqualify, in its sole and absolute discretion, any team from the competition at any time for any reason. Reasons for disqualification may include but are not limited to: plagiarism and any other form of academic dishonesty, misappropriation or infringement of the intellectual property of others and/or any failure to comply with these rules and regulations. Disqualified teams shall forfeit any and all prizes awarded to them.

* Prize money is awarded to a designated team member and not the business entity. Your team is responsible for dividing prize money among team members. It is not mandatory for the award money to seed the startup. Winners who are UC Davis students will receive the prize money in their student account.

* Once the institute has released funds, the UC Davis Institute for Innovation and Entrepreneurship has no further role.

* Teams may not compete if the new venture has already received funding from any outside sources (i.e., angel investors, venture capital, prize money from other competitions, etc.) totaling more than $5,000 by the start of the fall quarter 2022.

* Winners from the Little Bang! may also compete in the Big Bang! Business Competition in the same academic year with the same venture. Little Bang! winners may compete in another Little Bang! with a different idea but cannot submit the same idea in multiple Little Bang! competitions.

* Awardees must agree to the following to receive their award:
   – Complete an awardee payout form.
   –  Write a one-page (minimum 500-word) blog post noting future milestones for developing their business idea and reflecting on lessons learned participating in Little Bang!
Questions?