A Better Life for People Living with Early-Stage Alzheimer's
App helps build confidence, strengthen memory, make healthcare more accessible
Quick Summary
About 240,000 Americans have early-stage Alzheimer's.
As a volunteer caring for patients with Alzheimer's, UC Davis undergraduate Neha Gondra recognized a need and created a solution.
Remember Me offers resources and accessibility for early-stage Alzheimer's patients.
The app won a $1,000 Global Sustainability and Innovation Award, sponsored by Blackstone LaunchPad, in the May 2022 Little Bang! Pitch + Poster Competition.
Alzheimer's disease, which affects cognitive abilities, is increasingly discussed in media and among the public. Many perceive a typical Alzheimer's patient as an older person with significant memory loss and declining cognition.

This perception is a generalization.
Early-stage and early-onset Alzheimer's disease is typically diagnosed among younger people, with an average age of 46. These patients may still be independent, driving to work, caring for family, conducting tasks on their own. However, they may have recurrent memory lapses, such as forgetting the location of household items or whether they took their medications. They may experience increasing difficulty with planning ahead or organization.
About 240,000 Americans have early-stage Alzheimer's. Yet, most resources are designed with late-stage patients in mind. I created the Remember Me app with the goal of making healthcare accessible and strengthening the confidence and wellness of early-stage Alzheimer's patients.
An app is born
I first conceived the app while working as a volunteer caring for patients with Alzheimer's. Most had the late-onset form of the disease and had numerous resources and medical care available to them.
However, I began to realize that there was a subset of patients whose needs were not being adequately addressed: those with early-onset Alzheimer's. I also recognized that patients  living in areas classified as medical deserts are even further removed from critical resources such as specialized care, therapists and medications they need to lead full and healthy lives.
Seeing the technology boom and the growing number of people who have access to devices with apps, I became inspired to develop a simple, efficient and streamlined app to assist people with early-stage Alzheimer's.
Remember Me has four key features:
Memory box: A daily written or video "journal" of activities and thoughts to help users recall critical memories of their day (e.g., meeting deadlines, completing tasks, recording a family gathering memory).
Critical alerts remind or notify users about important events/activities, such as taking medications on time, and then marks them as completed in the app. (This will help prevent double dosages of medications, which are common with people with Alzheimer's.) 
Memory and mindfulness activities: Research has shown that brain games help strengthen memory retrieval for people with mild to moderate Alzheimer's. The app includes a selection of puzzles, card games and remembrance tasks and reminds the user to engage in an activity each day. Users can also select mindfulness sessions to maintain mental wellbeing.
Advising and connections allow the user to contact their specialist physician in times of need or to schedule a telehealth appointment. Close friends and family can check in on the user by setting scheduled check-ins or by communicating with the user.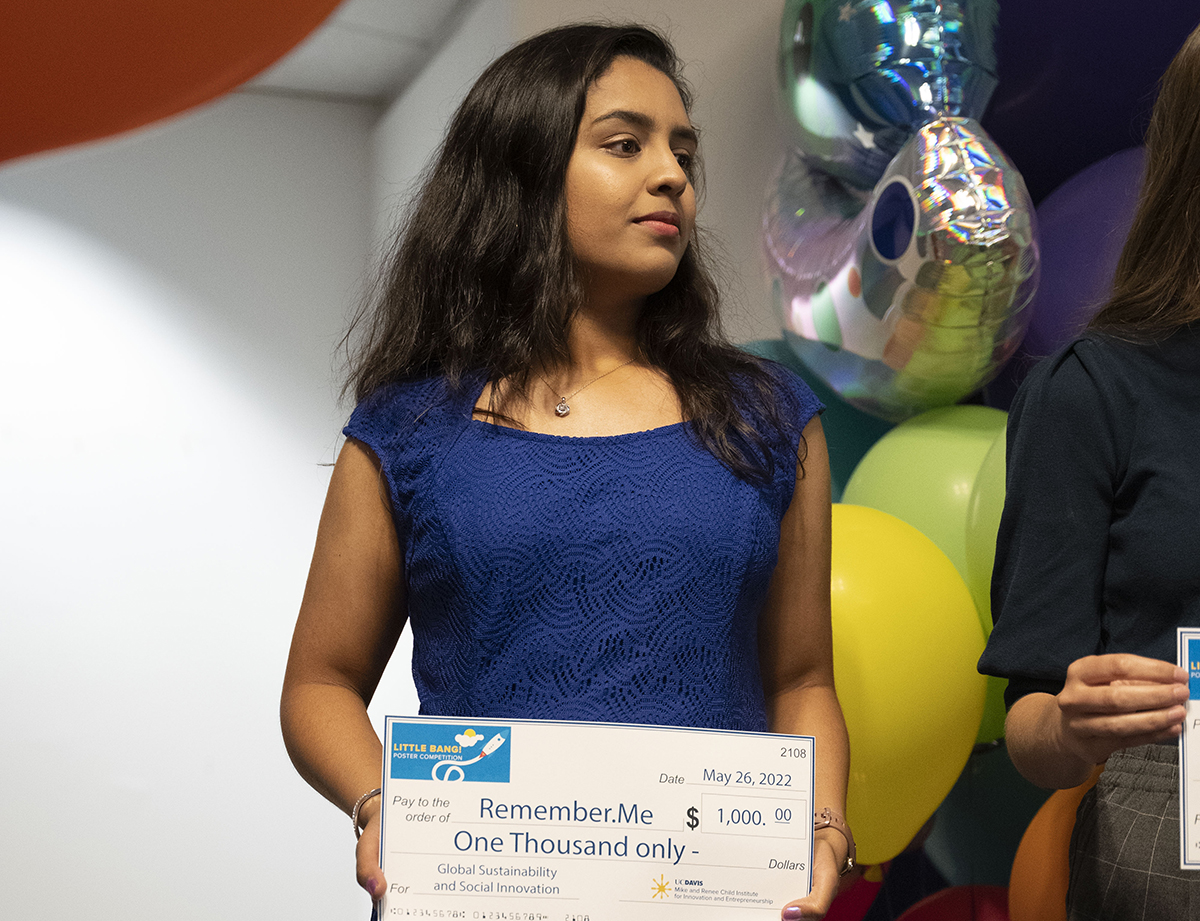 I decided to enter Remember Me in the May 2022 Little Bang! Pitch + Poster Competition. The competition proved a great avenue for me to receive advice and hear others' opinions and perceptions of my idea.
I learned that it takes creativity, novelty and motivation to develop a business idea and pitch it to others. The competition taught me the importance of feedback and revision in the initial stages of any startup.
Hearing from judges who are experts in their fields about ways to improve my business model and refine my idea encouraged me to continue to build my business and seek to launch it into the market.
Next steps
Remember Me won a $1,000 Global Sustainability and Innovation Award, sponsored by Blackstone LaunchPad, in the Little Bang! This recognition and funding will help me continue with the app's planning and development phase as I move my business toward launch.
In the coming months, I will conduct further market research by interviewing potential app users, caregivers, interdisciplinary Alzheimer's experts, technology developers and startup advisors. This will help me gain varied points of view and understand how I can better serve my target market.
I will be reaching out to researchers at the UC Davis Alzheimer's Center to understand new discoveries in the realm of early-stage Alzheimer's as well as what these patients' needs are. Interviewing the research team will help me better understand how technology can fill in the gaps in resources and therapy methods.
I will also be contacting geriatricians at the UC Davis Medical Center to understand accessibility challenges for Alzheimer's patients who live far from the nearest hospital with geriatric services. This will help me uncover time and commute challenges for patients and determine how the app can improve telecommunication with healthcare providers for patients in medical deserts.
I hope to find a mentor who has experience working with Alzheimer's patients and understands their diverse needs and experiences. Getting in touch with an industry expert and advocate would give the guidance I need to steer my business forward and best serve our intended users. It would also provide me with invaluable insight that I will use in the research and development of the app.
Entrepreneurship requires specific skills that come through education and experience. To further my business and entrepreneurship knowledge, I plan to enter the 2022/23 Big Bang! Business Competition to create a more detailed business plan and gain valuable feedback from experts. In conjunction, I plan to attend the Ideas into Action workshops hosted by the Mike and Renee Child Institute for Innovation and Entrepreneurship, in particular the Your Customer, Your Market session to determine the viability of my business and the value that consumers place on it.
I plan to attend the Think. Do. Discover. speaker series to learn first hand how entrepreneurs have built their companies, gained investments, maintained motivation and made a difference with business. I will also be taking classes in accounting, business law and managerial economics to gain more resources and advice from professors in the fields.
I am excited to continue to learn from the Big Bang! community and grow as an entrepreneur!
---
Remember Me founder Neha Gondra won the 2022 UC Davis Civic Engagement First Year Award for her advocacy and awareness work in the rare disease space with the National Organization for Rare Diseases, for her efforts in forming the California State Rare Disease Advisory Council, and for her clinical care and community health efforts in the underserved communities of Sacramento.
Primary Category
Secondary Categories
Tags