An App by Students, for Students
Buzly makes it easier to socialize, connect and find resources
Quick Summary
Buzly won a $1,000 People's Choice Award in the May 2022 Little Bang! competition.
Sacramento State student team plans for Buzly app to have a presence at 23 other universities across California by summer 2023.
Key to Buzly's successful continued growth: Mentorships, resources—and a viral growth loop focused on students, universities and the overall higher education school system.
The app expands to UC Davis in fall 2022.
Buzly is re-creating bridges between students and universities. Our social network helps students find resources, create communities and form connections with peers for an enriching college experience.
Even prior to the COVID-19 pandemic, students reported a disconnect on campus, often feeling lost and discouraged. With 84% of administrative emails going unread and 60% of technological resources unused, there is an obvious issue plaguing higher education—and this disconnection between students and universities has only risen through the pandemic. With Buzly we are bridging this gap and also bringing attention to the need for tools that benefit students.
The Buzly app makes communication between students and their university easier and more effective, creating a sense of belonging and relaying vital information. We focus on helping universities increase graduation rates and decrease dropout rates by facilitating student engagement with their campus. For students, Buzly is a private social network that builds real world connections and community. For their universities—which pay for an annual subscription—Buzly provides a trusted platform for sharing tailored updates, campus resources and news.
Buzly is coming to UC Davis this fall! Get the latest updates on Instagram.
Our poster competition experience
The Little Bang! Pitch + Poster Competition gave us the opportunity to communicate to new audiences about the student-university disconnect and highlight how Buzly has and will continue to combat this. It also gave us valuable feedback and a space to strengthen our foundation.
The competition judges told us they were impressed with our passion and initiative, but had slight concerns over our ability to replicate the success we are having at CSUS—Sacramento State—on other campuses. The initial launch of Buzly has shown us just how important it is to connect with our users, and we will continue to reach out to students, working in their best interest to provide a five-star experience every time they open our app. Our team takes priority in keeping students engaged through interactive content, as it is significant to replicate and improve one school's success to the other.
The judges' feedback also addressed our need to strategize the different phases of market opportunity as we expand, and how to fully take advantage of Buzly's potential. We will continue to work with corporate mentors—see below!—to pinpoint troubling areas and detail the next steps of our journey.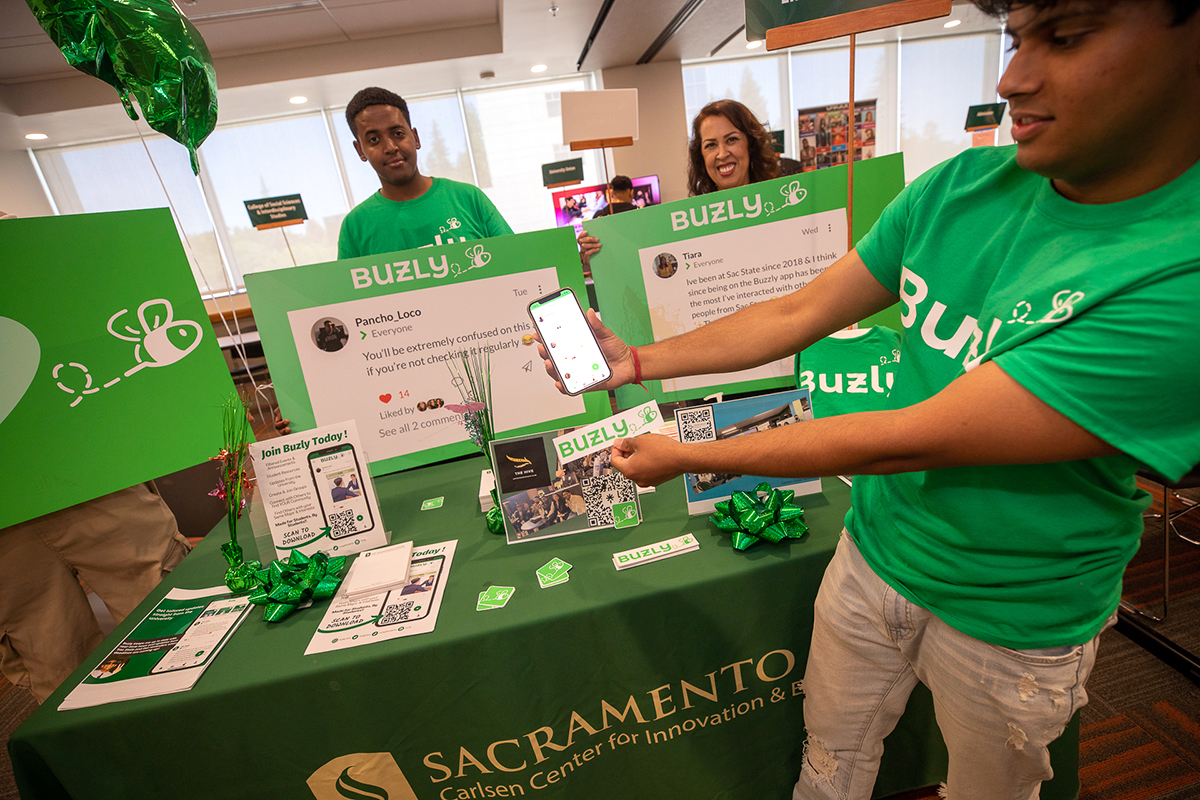 Looking ahead
After soft-launching at Sac State in January 2022, we gained consistent active platform users and organic traction by sharing on social media platforms, including Instagram, and through word of mouth among students. In under three months, our app gained an astounding 3,700+ users with an average screen time of 49 minutes per day.
Our goal is to expand to other West Coast universities, tapping into a potential $2 billion market. We are continuing to use immersive marketing initiatives to connect with audiences across multiple universities, and by fall 2022 Buzly will be available to an additional seven commuter campuses, like UC Davis, San Francisco State, San Jose State, Fresno State, Chico State, Stanislaus State and the Los Rios College District. We are reworking our platform to house a large system of users at each school and to provide a smooth experience every time.
Over the coming year we will focus on building relationships with administrators, school leaders, on-campus organizations and students, and plan to have a presence at 23 other universities across California by summer 2023. Our approach from a viral growth loop focuses on students, universities and the overall higher education school system. Hosting informational tables, posting enticing online content and connecting with influential college leaders are just some examples of our market outreach initiatives.
Growing our network
As students at Sacramento State University, our team has the opportunity to connect with mentors through the Carlsen Center for Innovation & Entrepreneurship. Cameron Law, the executive director, has provided resources and opportunities to strategize our business plan from an idea to fully executing it. Jessie Becker Alexander, an experienced entrepreneur-in-residence and co-founder at Alydia Health, has continuously provided insightful mentorship on financial security and in-house operations. Arlene Miranda, an administrative systems and operations analyst at the center, has had a positive influence on our team, providing us valuable mentorship on policies, internal operations and logistics.
To further improve our skill sets, we recently joined a startup mentorship with the Founder's Network, a global community of tech startup entrepreneurs who help each other succeed by sharing tips, resources and advice. And there are courses, events and individuals who will assist each area of the team, and we will incorporate what we learn into our future plans. These steps will develop product strategy and savvy business skills, such as business development, growth strategy, legal, marketing and anything related to a startup.
As we grow we will look for more opportunities to extend our mission. We appreciate UC Davis giving us a platform to build a stronger foundation throughout our time with the Little Bang!—and are honored to receive a $1,000 People's Choice Award in the May 2022 competition.
---
Buzly Inc.
Jackelyn Diaz | Buzly PR | B.S, Nutrition and Food with Minor in Child Development, Sacramento State
Manuel Diaz | Computer Engineer, Fifth Year, Sacramento State
Ryan Fly
Abubeker Hussen | Buzly Co-founder and App Creator | Mechanical Engineer, Fifth Year, Sacramento State
Rebecca Robison | Buzly PR | B.A., Journalism & Public Relations, Sacramento State
Srinjay Verma | Buzly Co-founder and App Creator | Computer Engineer, Fifth Year, Sacramento State
Primary Category
Secondary Categories
Tags