Don't Buy. Borrow!
Helping students save money, avoid clutter and sidestep the headache of missing items
Quick Summary
Many college students live in small spaces and have small budgets.
They have limited everyday items and essentials.
Undergraduates Andrew Kuang and Bian Lee set out to create a solution.
Their platform aims to solve the social friction of borrowing and lending.
The Borrow app won $1,000 in the November 2022 Little Bang! Pitch + Poster Competition.
There are 21 million college and university students in the U.S. When we joined their ranks, we soon experienced a common problem: limited space and budget to spend on everyday items and essentials—everything from textbooks, clothing and sporting goods to irons, mugs, and pots and pans.
These limitations mean that everyone brings in the things they deem most useful, and each student owns a unique set of items distinct from one another.
We saw the potential for a service to coordinate sharing these goods to mutually benefit everyone.
Starting a Startup
We aim to solve the social friction of borrowing and lending by building a platform where any student can easily list an item to lend, and find others' items available. After talking to many peers, we've gotten many positive responses telling us that they would definitely use such an app. Being able to solve this social issue using our technical development skills really motivates us.
Our company is building a new platform targeted toward college students to help them minimize their expenditures and make the best use of resources around them.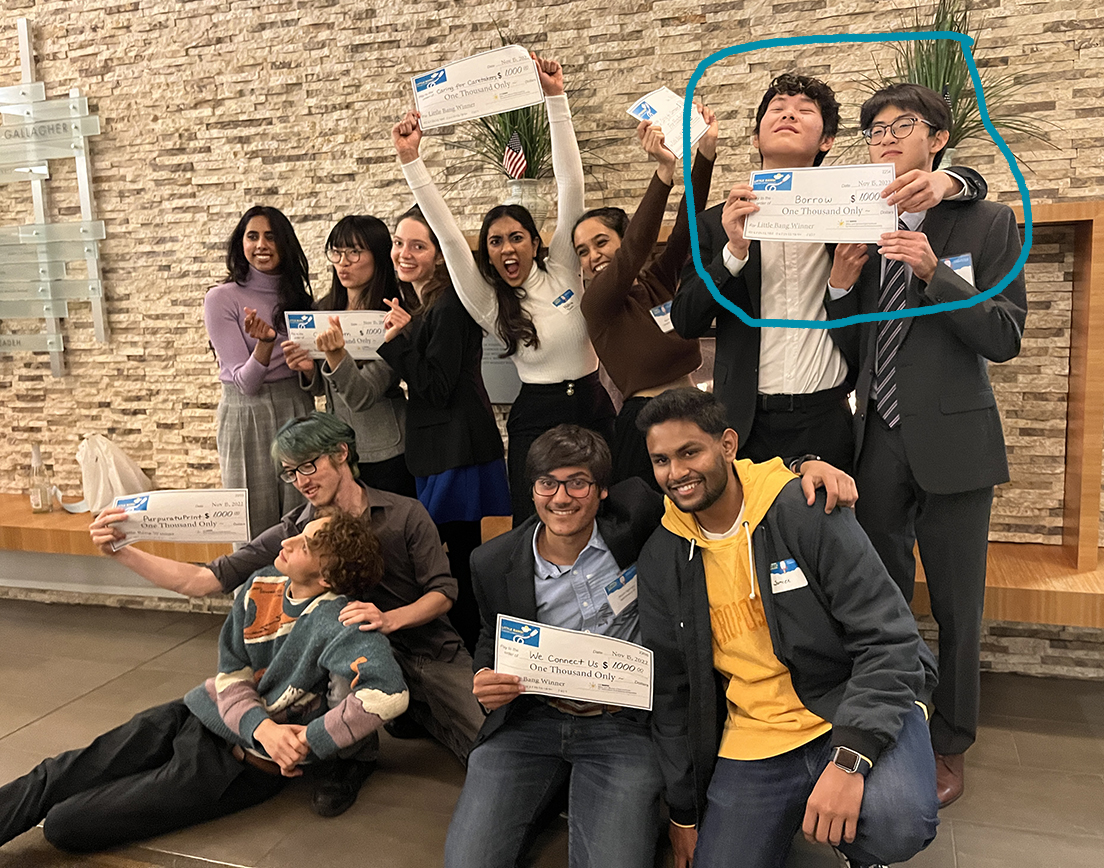 Borrow will allow students to put up items to share in exchange for in-app tokens, which they can, in turn, use to pay for borrowing other students' possessions. Ensuring that those who borrow also have their own items available for borrowing creates a balance between borrowers and lenders.
The items listed could range from everyday necessities to higher-valued goods. Larger amount of tokens work as an incentive for students to list higher-valued items. The platform also allows lenders to require borrowers a set amount of deposit, to ensure the item is safely returned in its original condition. In addition, the rating system filters out users who have a history of either abusing borrowed goods, or lending items in poor, unusable condition.
Our Little Bang! Experience
A large takeaway from competing in the Little Bang! Pitch + Poster Competition was the execution of market research and validation of our startup thesis. It was very meaningful to know that many peers in our dorms recognized the same issue when we pitched our idea to them.
Not only was the feedback useful, but the process of preparing for the pitch itself was extremely valuable in that it helped us hone our communication skills. We continued to refine our pitch in many aspects, whether it was adjusting the timing or highlighting certain sections to make specific points stand out. By the day of the actual competition and giving our pitch, we had covered every aspect of our startup in and out. We attribute our success in the competition to all the practice sessions we've had.
Andrew: I highly recommend following the competition directions carefully; it helps during judging to have a poster and pitch that include every requested detail. I would also recommend getting as much user feedback as possible in each step of the process, from generating the idea and thesis of the startup, to creating a solution, to pitching the idea.
Users should dictate your idea, and it definitely helps your pitch to have lots of validation for your idea as you compete. 
Bian: Having very specific information like numbers, graphs and survey details can help you stand out from bland, vague phrases. Go through every aspect of the startup with your team member(s) to know your product/business model well and to avoid inconsistencies. Have your pitch memorized and dress appropriately to present yourself as being confident and prepared.
Meet our November 2022 Little Bang! winners
Next Steps: Andrew
I am continuing to work on the Borrow platform. This entails improving my frontend development skills in React, and learning backend development. I will also tell plenty of people about the idea for Borrow and connect with many new people who could serve as our beta testers.
In my journey as a changemaker, I have lots of ideas about specific issues that I'm passionate about solving. My range of interests spans from pediatric pulmonary medicine to guitar, so I know I'd continue solving more headaches after the Borrow journey. 
Next Steps: Bian
Having established the idea for the startup, the next step is for us to build a working app. I'll be starting out with the frontend on the web, then work my way back to configure the technical stacks, incorporating backend, databases, API, authentication, etc.
Once a working prototype is complete, we'll directly roll out a first round of beta testing to see how the app performs in real life. We'll be making adjustments to the app based on this result, then refine it. Along the way, I plan to talk to as many fellow students as I can to get a clear idea on what the general student body would find useful. 
Primary Category
Secondary Categories