Little Bang! Poster Competition Launches Students' Entrepreneurial Journeys
18 teams receive $500 microgrants in first of three competitions
Thirty teams of UC Davis students from across the academic spectrum tested out their business ideas on December 7, 2017, in the first of three Little Bang! Poster Competitions.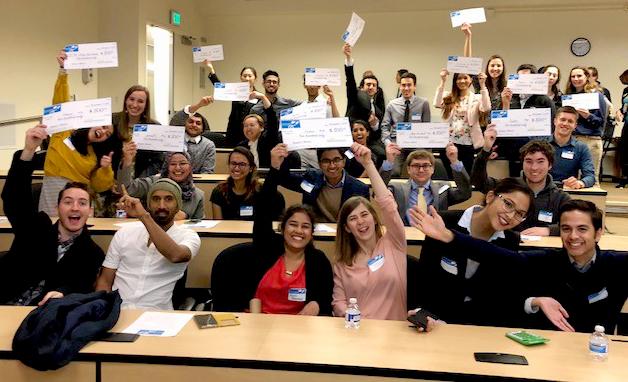 The Little Bang! is designed to help students define their business idea and communicate it concisely through a poster. This entry-level competition, which requires no business experience, is offered as part of the Big Bang! Business Competition, now in its 18th year. Open to UC Davis undergraduate and graduate students, the poster competition series supports students who are first exploring entrepreneurship and promotes business ideas where university intellectual property is not a primary driver.
New to the UC Davis business competition this year and funded by the State of California through Assembly Bill 2664: University of California Innovation and Entrepreneurship Expansion, the Little Bang! fills a need in the university's entrepreneurship resources ecosystem.
"Many UC Davis students have brilliant solutions to the problems of today, but don't have the business understanding or resources to bring their solution to reality," notes Karen Harding-Davis, Big Bang! coordinator at the Mike and Renee Child Institute for Innovation and Entrepreneurship. 
"The Little Bang! is the resource they are looking for, the first step on their entrepreneurial journey, where everyone is a winner, whether or not they receive a mircogrant. We hope that this experience—of workshops, feedback from judges that include local entrepreneurs and startup-savvy student peers, and overall participation—will give them the confidence to enter the Big Bang! Business Competition and take another step in bringing their idea to reality."
—Karen Harding-Davis | Big Bang! Coordinator
Of the 30 participating teams, 18 received a $500 microgrant and will vie for one of the up to 10 $1,000 microgrants in the second Little Bang! Poster Competition on January 24, 2018, and which will include a 90-second pitch. The final poster competition will take place on May 24, 2018, with teams competing for up to four $2,500 microgrants.
Microgrant awardees in earlier competitions are required to apply what they have learned in the first competition to the next level, which involves a heavier commitment. In addition, teams that do not receive a microgrant have the option to refine their posters and/or submit new ideas for consideration in subsequent Little Bang! competitions. Learn more about Little Bang! prizes.
Teams participating in the first Little Bang! stood with their poster to answer questions from the four judges and approximately 100 attendees, receiving valuable feedback to future develop both their poster and potential venture. The experience also included writing a one-page plan with milestones for developing the business idea, as well as the students' reflections on lessons learned through their participation in the Little Bang!
Judges sharing insight and expertise were Marc Facciotti, associate professor of biomedical engineering at UC Davis; Tim Keller MBA 08, a serial entrepreneur and executive director of Inventopia, a new hub for STEM entrepreneurs hoping to get their businesses off the ground; Joe Koepnick, associate director of new venture resources at UC Davis Office of Research; and Liz Tang, director of the UC Davis Student Startup Center.
Guidelines the Little Bang! competitions are available below.
Third Little Bang! Pitch & Poster Competition Guidelines are forthcoming.
Program funding for Little Bang! is provided by the State of California through Assembly Bill 2664: University of California Innovation and Entrepreneurship Expansion.
The first Little Bang! awardees included:
Ccolor
Donald Pinckney, Computer Science Engineering, Math; fourth-year undergraduate
Alex Ditzel, Biochemistry and Molecular Biology, Psychology; fourth-year undergraduate
Shonit Sharma, Biomedical Engineering; fourth-year undergraduate
"My brother is dichromatic red-green color blind and it has inhibited him in his daily activities. If he goes to the store, he always has to bring someone with him so he doesn't buy the wrong thing."
—Alex Ditzel | Ccolor
Ccolor is an iOS app that provides an augmented reality solution for colorblind users to differentiate colors in the world around them. The app uses the iPhone's built-in camera combined with corrective filters to display colors in a way that allows colorblind users to tell them apart. Another mode simulates color blindness for people with normal vision so they can experience color blindness and empathize with the people it affects. The team entered the Little Bang! competition to further promote its app and receive both broader recognition and valuable feedback and advice from people who have significant industry experience.
Ccolor was a finalist in the UC Davis Student Startup Center's Creator Challenge Series in May 2017, and won the Best Application of VR/AR category award.
Read Ccolor's Little Bang! blog >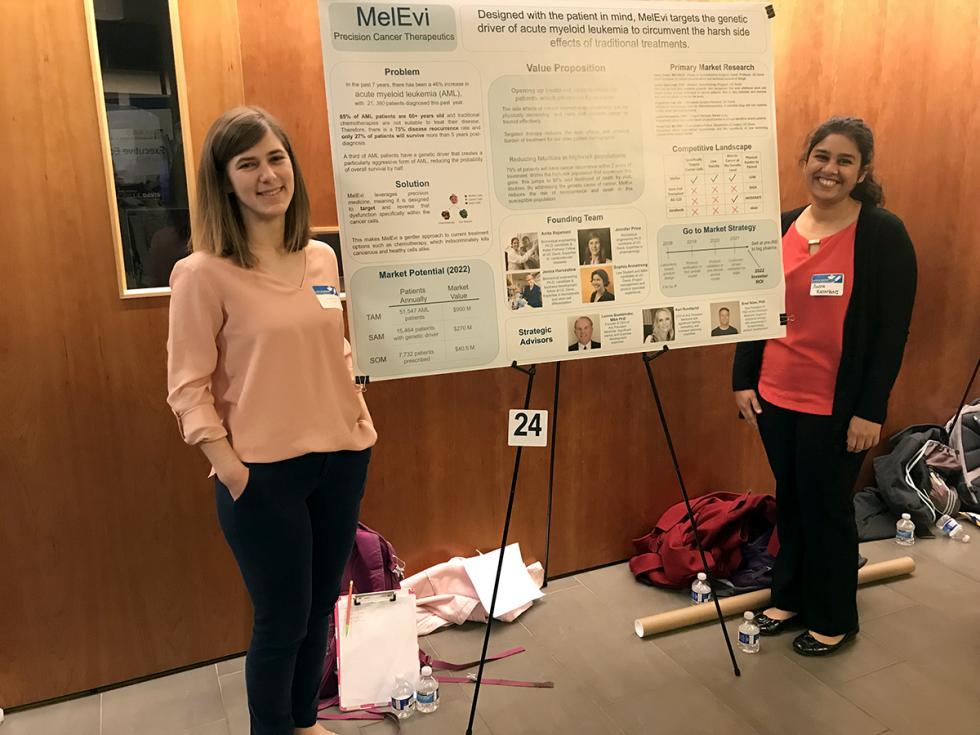 MelEvi: Precision Cancer Therapeutics
Anita Rajamani, Biomedical Engineering Ph.D. Candidate, 4th year; Keller Pathway Fellow
Jenna Harvestine, Biomedical Engineering Ph.D. Candidate, 4th year; Business Development Fellow
Jennifer Price, Biomedical Engineering Ph.D. Candidate, 4th year
Sophia Armstrong, JD and MBA Candidate, 2nd year
"This microgrant will likely be put towards patents and legal fees, to further protect our solution. The importance of intellectual property has been reiterated over the workshops provided by the UC Davis Institute for Innovation and Entrepreneurship, and we hope to file a patent within the next couple of months."
—Jennifer Price | MelEvi
Eighty-five percent of acute myeloid leukemia (AML) patients are not suited for chemotherapy and require alternative therapeutic options. MelEvi focuses on preclinical development of a suite of precision therapeutics using a portfolio of pre-identified genes. MelEvi's first product is designed for the 30 percent of AML patients with a genetic driver causing a particularly aggressive form of leukemia. This solution will extend the life and potentially cure AML patients by suppressing the genes which cause uncontrolled cell growth.
MelEvi has entered the Freedom from Cancer Startup Challenge.
Click to watch team video > Read MelEvi's Little Bang blog >
Peru Water Quality Project
Kathleen Campos, Civil Engineer; second-year undergraduate
Anna Garverick, Biomedical Engineer; first-year undergraduate
Hannah Mosheim, Chemical Engineer; third-year undergraduate
Olyvia Raymer, Civil Engineer; second-year undergraduate
"The competition challenged us to think like business people and think of a creative solution for the water system in La Huaylla, Peru. Our goal is to help communities—and the poster competition could bring us one step closer to that."
—Hannah Mosheim | Peru Water Quality Project
Networking with the Peruvian community of La Huaylla, the Peru Water Quality Project proposes to update the current drip-based chlorine system to a peristaltic pump that will increase water sanitation quality, decrease maintenance and increase long-term sustainability. The team will additionally implement a system of data collection and a database to facilitate communication between its team of engineers and the community's water committee.
Read Peru Water Quality Project's Little Bang! blog >
Seize the Wheel
Matthew Musser, MBA candidate, First Year
Seize the Wheel is a virtual reality driving simulator and electroencephalogram service that helps patients with epilepsy and their doctors decide if they are capable of driving safely.
"I was delighted to find something where I can compete and work on my business idea while still formulating it. After talking with student ambassadors and Little Bang! organizers I was convinced this was a fantastic opportunity."
—Matthew Musser | Seize the Wheel
Read Seize the Wheel's Little Bang! blog >
Ugly Food Market
Stephanie Lew, Environmental Science and Management; fourth-year undergraduate
Anna Gomes, Agricultural and Environmental Education; fourth-year undergraduate
"One factor missing from our poster was a clear business model. For our Session 2 poster, we plan on revitalizing the images to display the path from the source of ugly food to the marketplace, as fresh produce or processed food. By illustrating the supply chain and processing line, this will create a clear portrait of the UFM business concept."
—Anna Gomes | Ugly Food Market
The Ugly Food Market (UFM) is dedicated to reducing food waste and eliminating food insecurity. By focusing on "ugly food," the venture will offer discounted fresh produce and a unique line of prepared foods, such as breads, soups, and sauces. Without UFM, the produce would end up producing methane in a landfill and contributing to the 40 percent of food wasted in the U.S.
The team competed in the Big Bang! poster competition in May 2017.
Primary Category
Tags