An Inspiring Conversation with San Francisco's Mayor
Connecting with and learning from London Breed
San Francisco Mayor Breed demonstrates that any peak can be reached if the goal is clear and a hard-working attitude is in place. It was my great pleasure and professional honor to meet

her through a special opportunity in my Leaders for the Future Fellowship Program.
My name is Gulnara Nabiyeva. I am an international student from the Republic of Kazakhstan. In 2020 I received my master's in community development at UC Davis. Currently, I am continuing my education as a Ph.D. candidate in geography and am a Leaders for the Future fellow.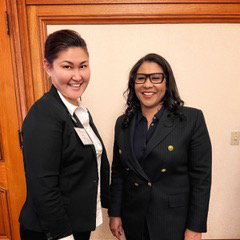 My prime research interest is the intersection of two major concepts of open data and sustainable urban development. Specifically, I am exploring how local open-data initiatives could make our cities better places to live. Being born in a small town with a wide range of social and economic issues, I am devoting my career to promoting technologies to support decision making and improving quality of life at the regional level, and my research interest stems from that background.
San Francisco is a special place for me for two reasons. First, it is one of the most sustainable cities in the world. Second, its local open data portal is one of the most developed, logically organized and user-friendly initiatives I have ever found during my research. Thus, San Francisco provides a great example of how my research interests could materialize in the real world. Emerging in San Francisco, inspiring breakthroughs and good practices can help other cities around the world to cover existing gaps and address constraints of sustainable development.
It was my great pleasure and professional honor to meet Mayor Breed. I have a lot in common with Mayor Breed. We both are from minority backgrounds, and we both struggled a lot while studying because of being first-generation college graduates in our families.
Mayor Breed's story equipped me with extra motivation to advance my knowledge and skills as a highly trained professional in sustainable development and—at the same time—make the lives of others better, safer and more comfortable. Mayor Breed is a person who demonstrates that any peak can be reached if the goal is clear and a hard-working attitude is in place.
Her career path to the elected leader of one of the most famous cities in the U.S. is a great inspiration of how a person can advance by gaining knowledge and skills and overcoming social barriers and prejudice.
What I like the most about the Leaders for the Future Fellowship Program is that I have a chance to meet new people from diverse backgrounds, with a variety of success stories and setbacks, who willingly share their experiences in order to learn and guide those at the beginning of their leadership journey. The fellowship provides me with opportunities to explore new horizons for personal and professional development, build netstorming and open the doors to what was previously beyond my capabilities by testing my ideas in practice.
The most striking takeaway for me is the mayor's vision of the San Francisco local open-data initiative as a helpful tool to make the city more sustainable. Mayor Breed underlined the great potential of local open data to empower citizens by providing them with relevant real-time information and facilitating two-way communications with the city government. Using specific examples, Mayer Breed accurately illustrated the data-driven decisions she made and how those decisions helped her manage city resources to meet the needs of ordinary people. It was inspiring!