Meet Our 2022 Big Bang! Winners
Novel Fetal Monitoring System Wins Top Prize in 2022 Big Bang! Business Competition 
An Innovation in Respiratory Health Takes Home 3 Prizes Totaling $25,000
Two University of California, Davis, graduate students received the $20,000 first prize for the best innovation in the 22nd annual Big Bang! Business Competition on Thursday, May 26.
Davis–based Storx Technologies has developed a noninvasive device that accurately determines a baby's well-being in the womb—and helps doctors decide whether the baby can be delivered vaginally, avoiding an unnecessary Cesarian section.
The innovation was developed in Electrical and Computer Engineering Professor Soheil Ghiasi's UC Davis lab after Ghiasi's wife experienced a C-section.  
$90,000 in prizes
The UC Davis Big Bang!, organized by the Mike and Renee Child Institute for Innovation and Entrepreneurship, has been helping entrepreneurs start or grow business ventures for more than two decades through the competition, workshops, mentoring and networking opportunities. This year the Big Bang! was open to teams with a founder or team lead affiliated with a college or university in California.
The annual awards ceremony—held in person on the UC Davis campus for the first time since 2019—celebrated the contestants and announced the winners of $90,000 in prizes for innovations in food and agriculture, health, energy/sustainability and social enterprise.
Sixteen finalists—out of 44 qualifying teams in this year's competition—pitched their ventures before five judges in a 10-hour marathon judging session. Judges considered the teams' integrated strategy, steps toward implementation, and market opportunity to determine prize winners.
The $10,000 People's Choice Award winner was selected by online voting that was open to the public.
Health and safety during labor, delivery
Storx Technologies Big Bang! team members Regina Hoang, an MBA student, and Kourosh Vali, a doctoral candidate in computer engineering, met in a fellowship program that helps students with a business idea move their innovation or research off campus and into the world. Vali got involved in the medical device project as a graduate student researcher in Ghiasi's electrical engineering and computer science lab since September 2018.
Currently, doctors assess a baby's well-being during labor and delivery using electronic fetal heart rate monitoring, or EFM. When EFM shows the baby does not have adequate oxygen (fetal hypoxia), and may suffer disabilities or death as a result, doctors typically rush to perform a C-section.
Data published in the journal Clinical Obstetrics & Gynecology has shown that 30% of babies delivered in U.S. hospitals are detected as potentially hypoxic; however, 60% of those detections are false alarms.
The professor's lab developed a wearable, transabdominal fetal pulse oximeter to measure a fetus's blood oxygen saturation levels, and in 2020 Ghiasi launched Storx Technologies to commercialize the technology. Grants from the National Science Foundation and the National Institutes of Health have supported the research.
This breakthrough device will make labor and delivery safer for moms and babies. It will let doctors know when the fetus's blood oxygen saturation levels are low — a red flag that indicates the baby needs to come out right away or risk losing oxygen to the brain or organs. In these cases, the device can prevent disabilities such as cerebral palsy and epilepsy.
—Kourosh Vali
The Storx Technologies team will use the prize money, generously sponsored by Lorin Johnson, to conduct additional market research and customer calls.
 "We learn so much by talking to the doctors and nurses who will actually be using this device and hearing about their pain points and concerns so that we can improve it," said Hoang.
Storx Technologies is continuing to improve the prototype and conducting additional animal and human clinical trials.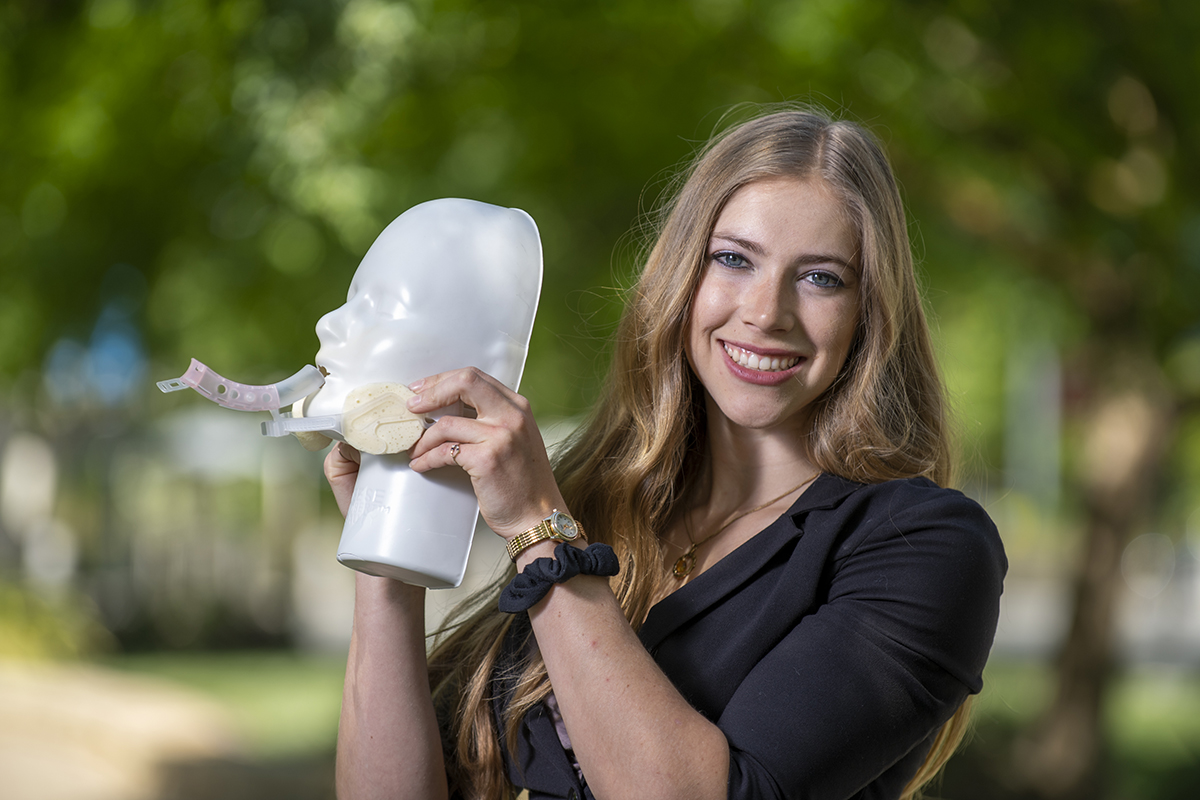 New hope for respiratory patients
Each year an estimated 33,000 people die in U.S. hospitals due to unplanned extubation—the unintended, uncontrolled removal of a patient's life-sustaining breathing tube.
Beat Medical, co-founded by UC Davis biological science major Kalie Marland and David Zalazar, a Ph.D. candidate in biomedical engineering at UCLA, proposes a solution: a new breathing tube holder.
Our innovation upgrades the industry standard with a curved bite guard to prevent the breathing tube from kinking and silicon cushions to prevent facial ulcers. It is uniquely exchangeable, preventing unplanned extubations.
Beat Medical took home three prizes totaling $25,000—the $10,000 Human Health + Industry Sector Award, sponsored by UC Davis School of Medicine and UC Davis Health; the $10,000 People's Choice Award, Bow Capital and UC Davis Innovation and Technology Commercialization; and $5,000 in in-kind services at Davis-based startup incubator Inventopia.
The startup is currently drafting a provisional patent, says Marland, and will use the prize money to help them obtain the full patent. "This will enable us to commercialize our product and get it into hospitals by 2023. We already have a mold and finished prototype, as well as interested hospitals and letters of intent from distributors.
"Our long term goal is to expand beyond California, specifically to other states and to Europe within the next five years."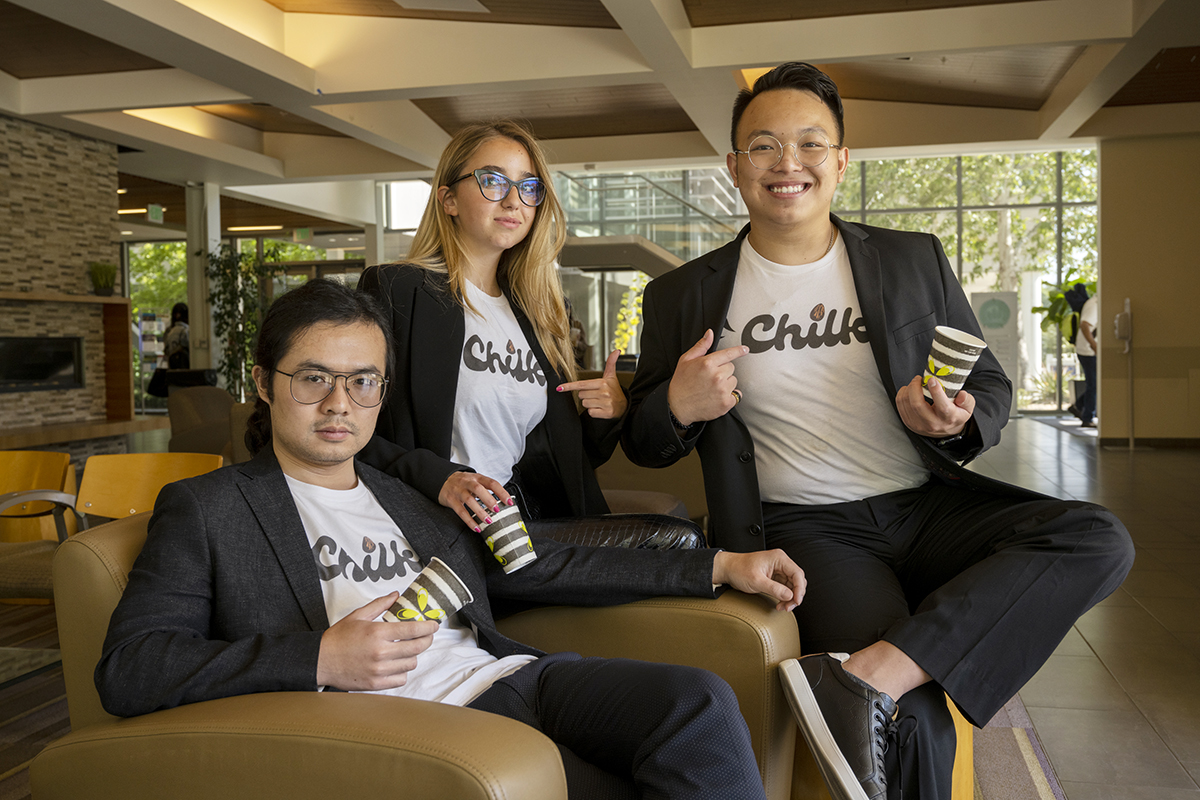 A boba milk tea you can feel good drinking
Leo Liu, a Ph.D. candidate in biochemistry at UCLA, is obsessed with boba milk tea. And he's not alone: it's one of the most popular drinks among college students and young adults.
But he points to two problems: like 38% of the U.S. population, Liu is lactose intolerant and "can only drink the tiniest amount of milk tea. Beyond that though, 48% of the U.S. population is obese, and the average daily sugar intake is way higher than recommended.
"Boba milk tea is an amazing beverage, but super high in calories and refined sugars. We wanted to make a boba milk tea that was healthy and affordable—and aligned with our ideals of being vegan, all-natural and with healthier alternatives to some of the preservatives typically used."
Last year, during the deepest point of the pandemic, my friend Cole and I decided to create something we personally would love to drink everyday and that millions of others will appreciate as well: Chilk.
The competition helped the Chilk team refine their business proposal, gather invaluable information to guide their R&D for new products in the right direction, and provided new and valuable customer perspectives. It also reinforced their belief in themselves as innovators and entrepreneurs.
"The mentors and judges told us they believed that we are THE team to take our venture to its fullest potential," Liu explained. "As not only student founders but first time founders as well, there is sometimes self-doubt and a sense of loneliness that comes with working so hard on this venture. Hearing that some of the judges believe in us really meant a lot."
CEO Liu is joined by Jake Grodnitzky, chief marketing officer and a business administration student at Cal State, Long Beach; Public Relations Manager Mary Bozhkova, a student at UCLA; Ian Quinton, chief service officer;Jake Sharadin, chief operating officer and an economics and business student at Santa Monica College; and Nathan Wong, business development manager and a student at Pasadena City College. 
Their innovation won the $10,000 Food and Agriculture Sector Award, sponsored by  HM.CLAUSE and supporting sponsors AGR Partners and Gowan Co.
The startup will use the prize money to expand its operations beyond farmers markets and local events and into contract manufacturing. 
"We just began running our first Chilk food truck and we'd like to expand a line of food trucks and storefront locations to college campuses across the U.S. so that everyone has access to healthy, vegan boba milk tea," said Grodnitzky.
"A year from now we believe Chilk will be a staple at every major campus across California; in five years' time, we believe Chilk will be the staple boba beverage throughout the United States."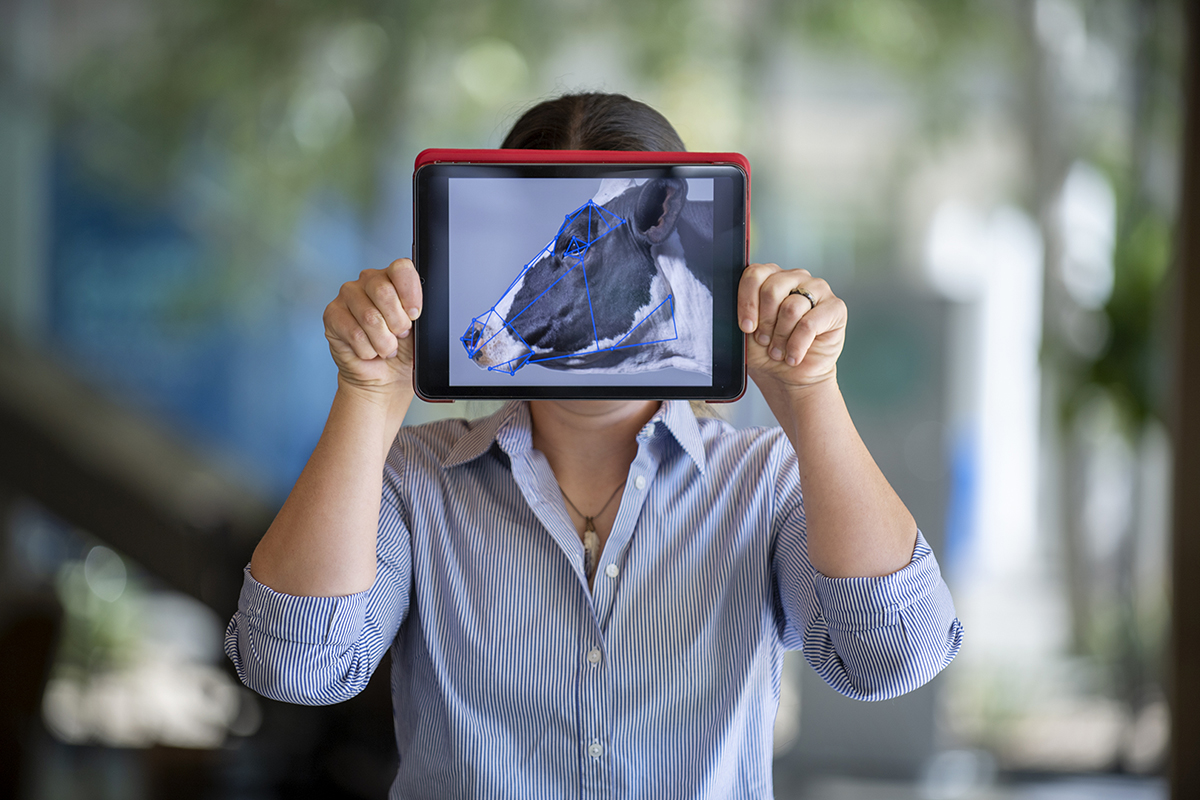 Helping farmers step back and "listen to their cow"
Catie McVey grew up riding horses and hearing old cowboy adages about certain facial features that could predict a horse's behavior and trainability—a "moose nose" is friendly, a "pig eye" is ill-tempered, an "eagle eye" will be competitive. She did a science fair project to disprove them but found instead those adages worked pretty well.
The experience set her on a path to attend a STEM high school, where she worked with a Duke University data scientist to develop an algorithm to quantify facial biometrics of livestock to explore their predictive potential.
As an undergraduate, she became interested in livestock welfare and secured a National Science Foundation fellowship to extend the work to dairy cows as a master's student. Another fellowship brought her to UC Davis for her doctorate in animal biology and to develop purpose-built, unsupervised machine learning algorithms that would let cows and their data speak more fully for themselves. The idea for her startup, Dairy FIT, was born.
With the current algorithms we use to mine management insights from on-farm data streams, it's kinda like playing 20 questions with your cows: they can only answer if you think to ask. That means we can miss a lot of important details.
McVey's AI system provides a more open-ended approach to exploring these data streams that helps farmers extract insights about the behavior, health and productivity of their herd—and leaves it to the farmer's expertise to decide how best to address issues. "The goal is to empower farmers to make better decisions for their cows with their data, not replace them," McVey stressed.
Dairy FIT won the $10,000 Animal Health and Industry Award, sponsored by the UC Davis School of Veterinary Medicine, and $5,000 in in-kind services at agriculture, food and health accelerator AgStart.
"In the first year, Dairy FIT will focus on piloting my algorithms in the real world, testing them against real cows and real problems," said McVey. "I plan to partner with larger dairies that can afford to hire an analytics consultant. The prize money creates opportunities to partner with some smaller dairies that might be interested in the tech but perhaps not able to swing a consulting fee.  
"In five years I hope to have everything fleshed out on a cloud platform where my algorithms can support the conversation between cows, farmers and consultants."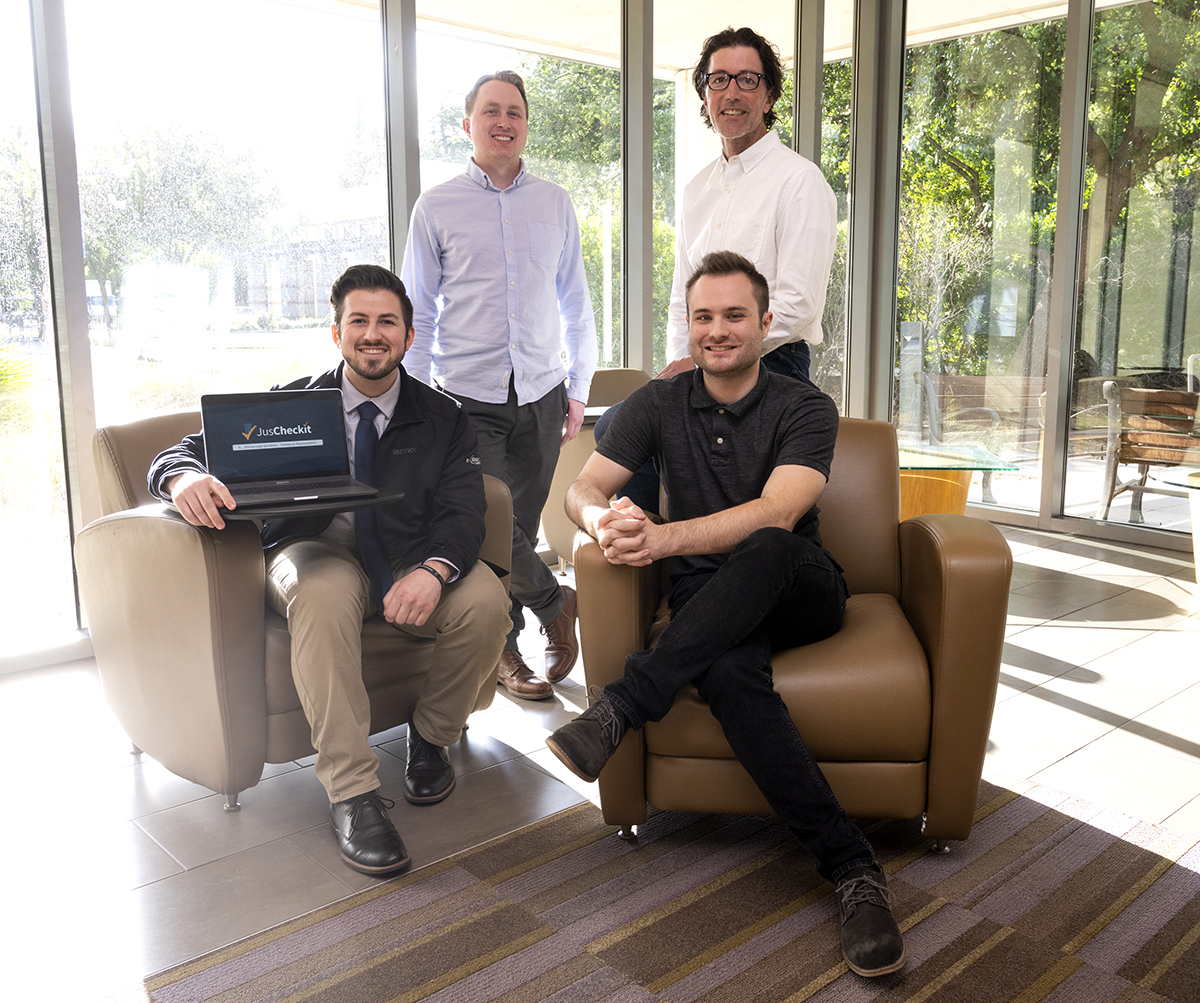 On a mission to close the justice gap
Cameron Gallad's dad fled war-torn Lebanon for the U.S. when he was just 12 years old. When he bought his first home, the builders cut corners, toxic mold grew and the house was condemned. The family suffered financial, medical and emotional hardship. "We eventually fought a legal battle against the builders," Gallad remembered, "and lived in cars, hotels and on friends' couches.
"The lack of resources, uncertainty and long-lasting pain that came from this legal battle made me realize how important it is to educate and connect people with the right help."
According to the World Justice Project, the U.S. ranks #126 out of 139 countries in accessible and affordable civil justice, behind, among others, Uzbekistan and Angola. Among higher-income countries, and countries in North America and Europe, the U.S. ranks dead last.
JusCheckIt (Sacramento) is creating an online community for legal information, conversation and representation.
We encourage an open dialogue with legal professionals and users to help people understand their situation prior to getting direct legal assistance. Our goal is to create the destination for legal issues.
The startup's co-founder and CEO, Gallad is a program manager at e-Mission Control and a 2021 alumnus of UC Davis, with a degree in communications. He is joined by CTO Chris Denend, former SVP of engineering at TrueCar; COO Ryan Guaglione, a pricing and data analyst at CalAmp; and CFO Jackson Wise, a project engineer at Deacon Construction and a UC Davis alumnus.
JusCheckIt won the $10,000 Social Entrepreneurship Award, sponsored by the Institute for Innovation and Entrepreneurship, and will use the prize money to roll out its website to the public. "The public beta will be preceded by targeted social media marketing, physical visits to local law clinics, and an in-person event with UC Davis' law school," said Gallad.
Immediately after launching, JusCheckIt will expand marketing efforts, develop more robust features for lawyers, and revamp its branding.
"We hope to follow up with an official product launch after several months of testing, iteration and development. In a year, we hope to have created partnerships with multiple law schools, hosted thousands of legal discussions, and connected our users to representation that gets them the justice they deserve."
In five years, JusCheckIt would like to be helping people nationwide with their legal issues. "By that point we should have enough case data to accurately predict the outcome and value of a case, so that lawyers won't have to waste both their and their client's time again," Gallad noted.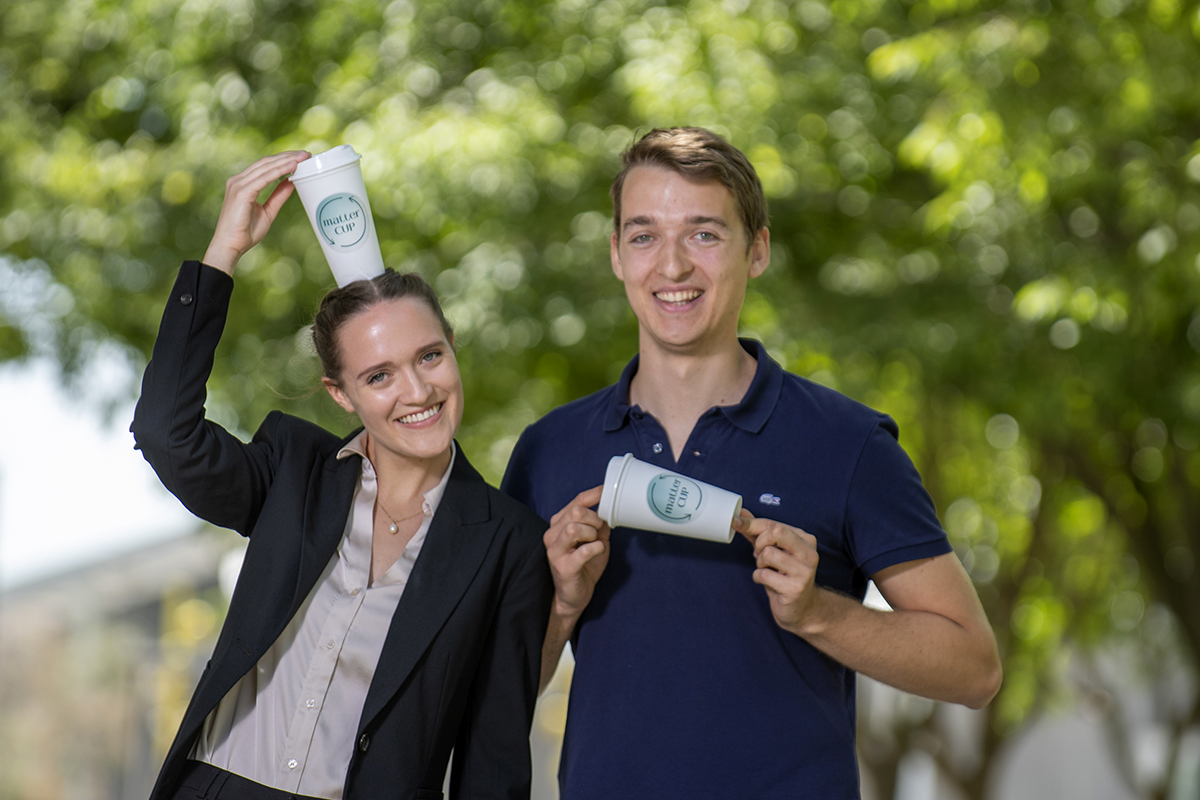 Saving the planet, cup by cup
In the U.S. alone, an estimated 120 billion single-use cups are dumped in landfill every year. Stacked end to end, they could circle the earth's equator approximately 330 times.
UC Davis communication and art history double major Chantal Deslauriers and Lorenz Lehmann, a student at RWTH Aachen in Germany, co-founded Davis-based MatterCup to combat this ever-growing mountain of waste.  
To use the system, coffee shop customers order their beverage in a MatterCup for a $1 deposit, enjoy their beverage on the go, and then return the empty cup to any partner cafe to get their $1 back. "Our simple innovation takes advantage of the circular economy and implements a closed-loop process to replace the single-use cup with a reusable alternative: a cup sharing system for to-go cups," explained Deslauriers.
"MatterCup was born out of my longtime interest in sustainability, circular systems and the zero waste movement to build solutions to the world's most pressing environmental challenges," said Deslauriers.
Growing up, I was exposed to the simple yet brilliant deposit system in Europe. At its core our business idea 'reuses' this proven system and repurposes it to address the problem of single-use waste, adapting to the environment in the U.S.
MatterCup won the $10,000 Energy and Sustainability Sector Award, sponsored by SMUD, and will use it to fund a pilot program this summer—including purchase of the MVP cups, website hosting/development, promotional items and delivery costs—at its first customer: the ASUCD Coffee House on the UC Davis campus. Any remaining money will help expand its partner network in late summer/early fall 2022 by offsetting customer acquisition costs and onboarding new coffee shop partners in Davis and the greater Sacramento region.
"With a projected minimum of 50 onboarded coffee shops by the end of year 1, the key to our success is an aggressive launch strategy, as we thoroughly believe that the network effect is what makes MatterCup the most innovative, creative and, ultimately, effective system."
 MatterCup plans to expand to the Bay Area in year 2 and have partners throughout California and throughout the U.S. within five years.
Primary Category
Tags