Meet Our 2021 Big Bang! Winners
New ventures in energy, human and animal health, food and agriculture, and education receive seed money to move forward.
A team of executive MBA students attending UCLA's Anderson School of Business captured the $20,000 first prize for the top innovation in the 21st annual Big Bang! Business Competition on May 27. The prize is sponsored by Lorin Johnson and Marrone Bio Innovations.
Their startup, Los Angeles–based NurLabs, has developed a novel liquid biopsy using materials science and machine learning for early cancer screening. Early detection of cancer increases the likelihood of successful treatment.
More than $100,000 in prizes
The Big Bang!, organized by the Mike and Renee Child Institute for Innovation and Entrepreneurship, has been helping entrepreneurs start or grow business ventures for more than two decades through the competition, workshops, mentoring and networking opportunities. This year the Big Bang! was open to teams with a founder or team lead affiliated with a college or university in California.
Seventeen finalists—out of 45 qualifying teams in this year's competition—pitched their ventures before six judges in a two-day, 10-hour marathon judging session conducted via Zoom. Judges considered the teams' integrated strategy, steps toward implementation and market opportunity to determine prize winners. Online voting, open to all, selected the $10,000 People's Choice Award winner, sponsored by HM.CLAUSE and UC Davis Innovation and Technology Commercialization. 
The annual awards show—streamed via Facebook Live—celebrated the contestants and announced the winners of more than $100,000 in prizes for innovations in food and agriculture, health, energy/sustainability and social enterprise. Prizes for Big Bang! include $17,500 awarded in three Little Bang! pitch and poster competitions.
A mission to end late-stage cancer diagnoses
Top winner NurLabs' founder and CEO Sumita Jonak, who has a background in wireless engineering and computer science, is joined by a team with diverse backgrounds and experiences: oncologist Abhinav Chandra, regulatory expert Deepa Nagar, operations director Brian D'Souza, technology executive Alan Schiaffino and financial executive Aram Babikian.
For the NurLabs team, the mission to end late-stage cancer diagnoses and give people living with cancer a fighting chance is personal.
"All of our lives were upended by cancer," explained Jonak, "so we set forth to tackle the biggest, baddest problem out there."
The National Cancer Institute reports that liquid biopsies can complement the current standard-of-care screening. Liquid biopsy is ;a noninvasive test done on a sample of blood to look for cancer cells from a tumor that are circulating in the blood, or for pieces of DNA from tumor cells that are in the blood. 
But current first-generation liquid biopsies rely on dead cellular material, which often results in late-stage diagnoses.
In contrast, "NurLabs' platform detects and identifies material from living cells," said Jonak. "We are examining the couriers carrying cargo between cells. Cancer cells produce at least 10 times more couriers than normal cells, which makes this cancer biomarker easier to detect before cell death has occurred, at earlier stages."
The startup has prioritized a liquid biopsy for early lung cancer screening. "A growing number of lung cancers are diagnosed in nonsmokers, and today one in five people who die of lung cancer are nonsmokers, suggesting that genetic or environmental factors may play a significant role," the team said. 
NurLabs will invest the prize money directly back into the company to "advance our clinical studies and prove the science, get solid VC backing to help us navigate FDA approvals, and bring this liquid biopsy to market for real-world benefit," said Jonak.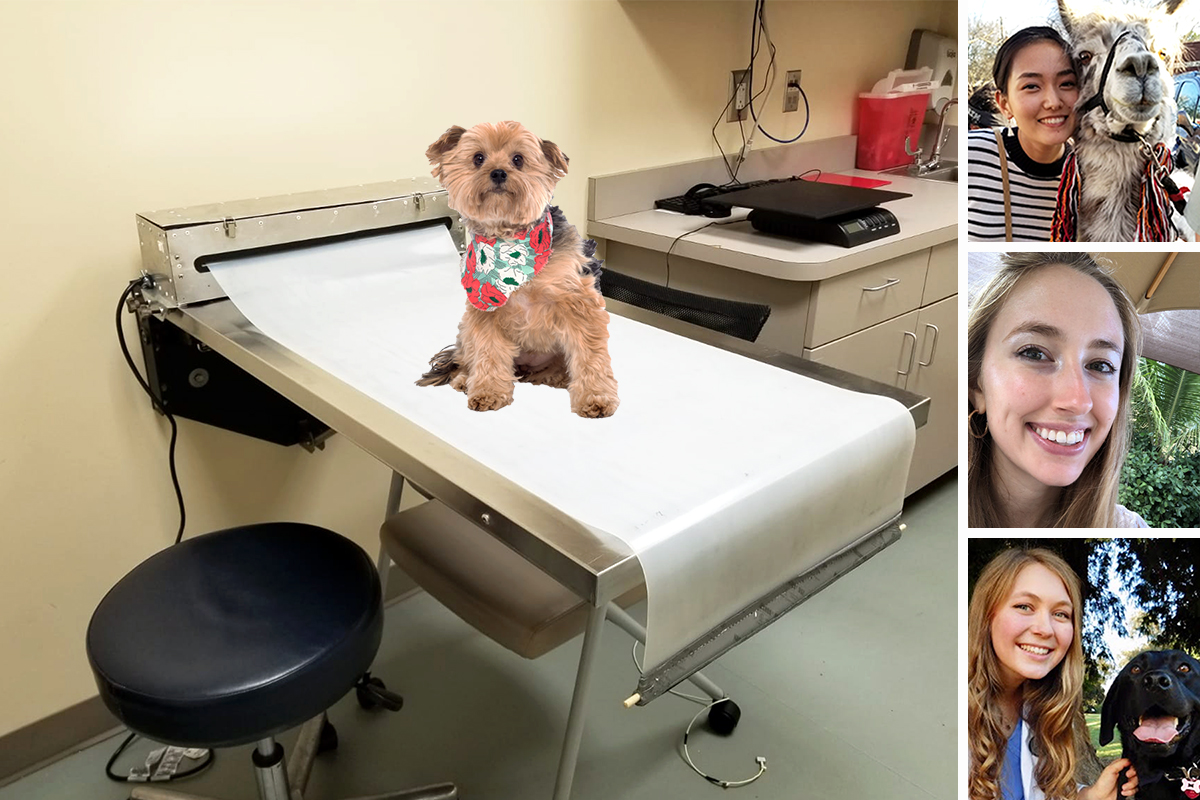 Less stress at the vet
For our companion animals, a visit to the veterinarian can be stressful and scary. 
AutoMat aims to reduce the stress with a new retractable, nonslip mat that makes the stainless steel examination table a more secure place. The mat is housed in a container with UV-C light that disinfects it between each use. This patented technology can be used in multiple settings that need self-disinfecting surfaces such as laboratories, food processing, grocery stores, and other healthcare facilities.
The mat was developed by Madison Luker a Doctor of Veterinary Medicine student at UC Davis, and her co-founders, University of Georgia College of Veterinary Medicine DVM students Alyssa Gutierrez and Greena Kim. They were inspired by renowned animal behaviorist Temple Grandin, who they heard speak at the Georgia Animal Health Hackathon in 2018. "She spoke about the importance of non-slip flooring to help animals feel secure and how important that was for animal welfare. We decided to tackle this problem during the hackathon, and we won first place in the Human-Animal Bond category," Luker said.
This month, the team has been testing their prototype at the Community Practice Clinic at the University of Georgia.  
The $10,000 Animal Health and Industry Award will help fund product development and marketing to expedite AutoMat's entry into the veterinary market. "With this boost, we aim to connect with more potential customers and distributors to continue expanding," Luker said. UC Davis School of Veterinary Medicine is the supporting sponsor for this prize. 
"A year from now, we hope to be gaining traction in the veterinary market with the support of investors and to start partnering with various distribution channels. In five years, we envision AutoMat being a staple product for small animal clinics, and to potentially have our patent licensed to a company that can take it outside of the veterinary field."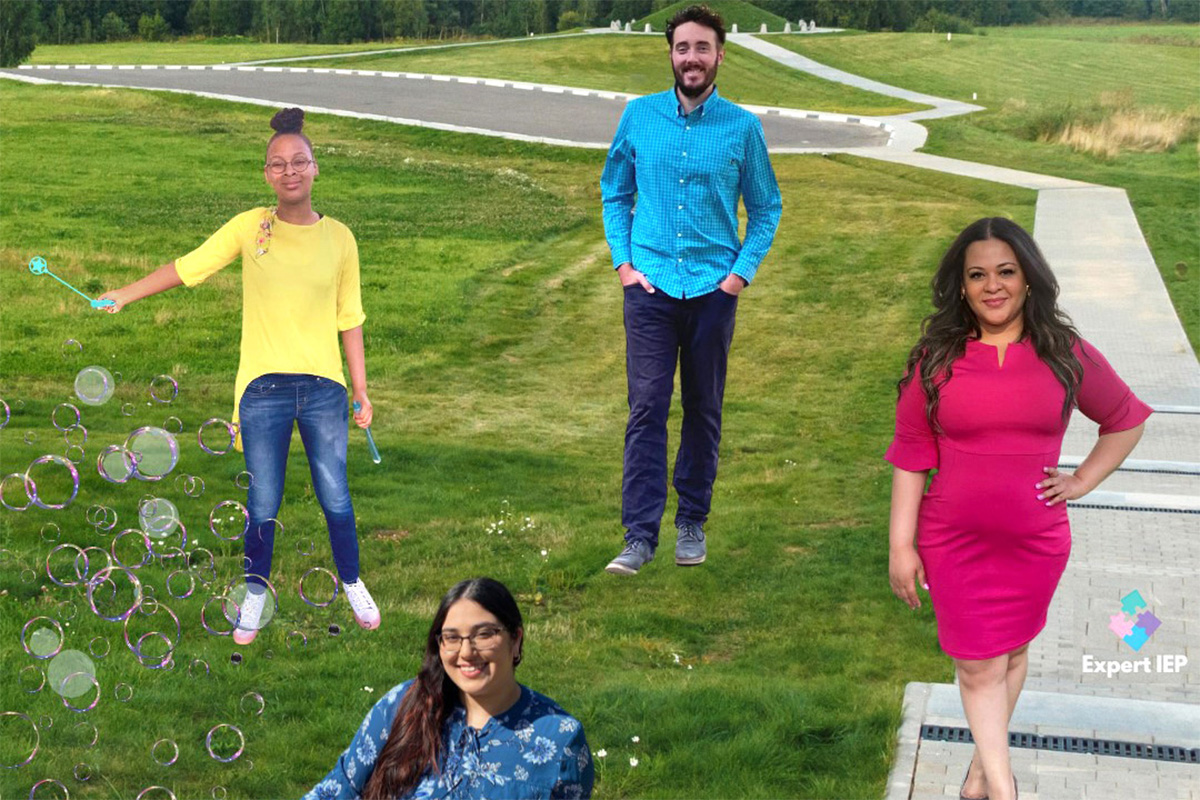 A software solution to simplify and fix IEPs
Almost a decade ago, Antoinette Banks' daughter was diagnosed with severe autism.
"The existing Individual Education Plan (IEP) process didn't work for us, so I educated myself and developed a solution that did," remembered Banks, now an undergraduate majoring in cognitive science at UC Davis and founder of Expert IEP. "Now, I want to make that system available to parents, and improve IEPs by enabling collaboration and using predictive analytics to set meaningful educational goals."
"Our special education system creates an unnecessarily adversarial environment. Parents feel like they do not have all the information on their children, and educators are overwhelmed with meeting our students' unique needs."
An IEP is a legal document that details how a school will help a special education student achieve their academic goals.
Banks is joined at Expert IEP by Evan Enzer, a law school student at UC Berkeley who serves as the startup's chief operating officer, and Hala Alkhatib, a fellow UC Davis undergraduate majoring in psychology, the startup's chief science officer. 
"Our software solution fixes IEPs by building efficiency for schools, educating parents and enabling communication, and bringing students into the process in age appropriate ways."
Expert IEP won the $10,000 Social Entrepreneurship Award and will use the prize money toward incorporating. Bow Capital is the supporting sponsor for this prize. "Then," says Banks, "we will bring on data scientists and engineers to help fine tune our algorithms in the development of our prototype." 
In a year, Expert IEP expects its pilot program will be underway with 150 research institutions and schools and with a revenue of $1.5 million. Banks plans to have $20 million in revenue within five years. "We also plan to adopt low income-schools to provide resources as well," she added.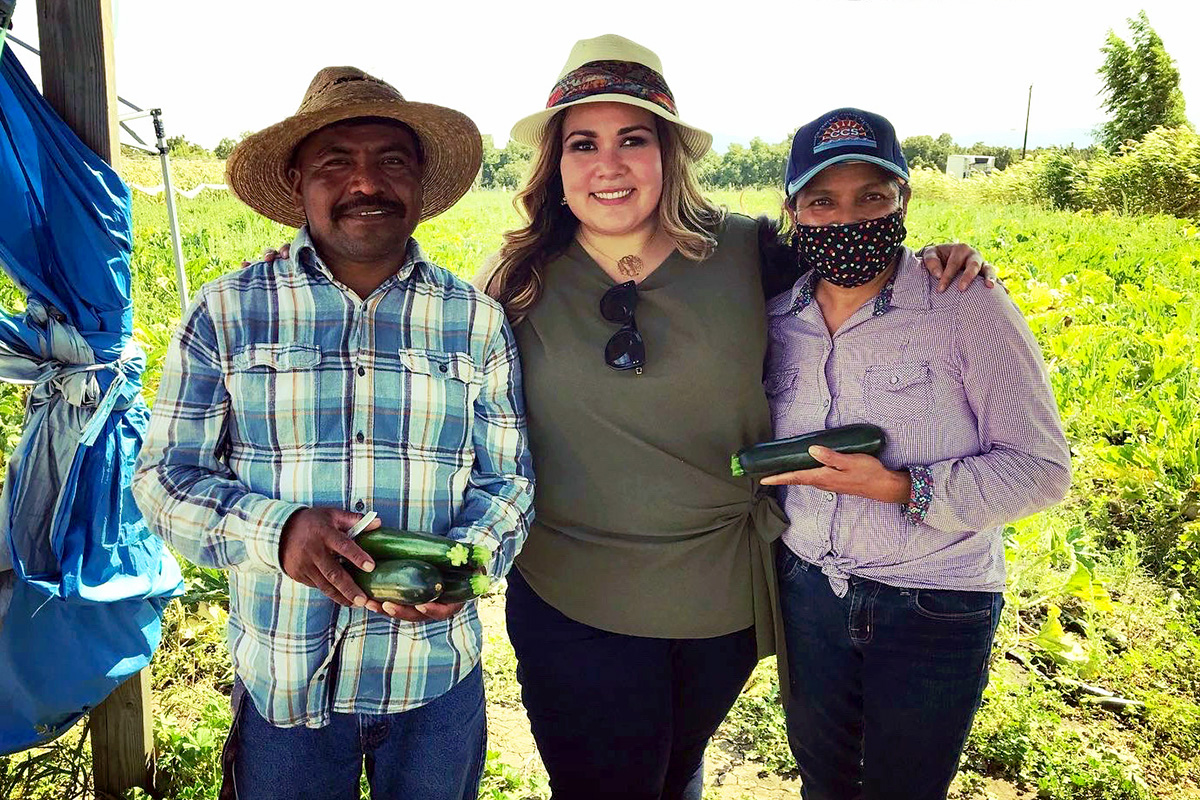 Empowering farmers through technology
People's Choice Award winner FarmX (Fairfield, California) wants to make digital inclusion for farmers and food chain players fun, accessible and simple. By increasing farmers' access to ecommerce technologies and channels to sell their products, the venture will both empower farmers and help reduce food waste by preventing it in the first place. 
"FarmX is platform for everyone," says co-founder and global regulatory affairs manager Maria Fernanda Reyes. "In the U.S. there are 671,000 small farms—representing 90% of farms in this country."
Fernanda Reyes brings a background in farming, sustainability and entrepreneurship to the venture. Her team includes co-founder and executive director for global business transformation Pradeep Karunakaran and Mexico-based Christian Orduno and Cesar Sanchez, responsible for technology and marketing, respectively.
"My grandfather Eleno was an indigenous farmer in Mexico until age 100," said Fernanda Reyes, "and the love of the land runs through my veins. When I reached adulthood I drove from Mexico to California, ultimately visiting over 200 farms in California and Arizona, and later throughout the world. It was evident that many farmers want to be sustainable, but lack the tools and education to do so."
She also realized the root cause of much food waste. "Traditional supply chains that farmers use are very complex with many players, and switching paths to market is very difficult," Fernanda Reyes said.
"Farmers also lack access to technology platforms without investing significantly. FarmX is created with a vision of solving this issue by creating a digital ecosystem for farmers, end customers, logistics providers and farming input providers."
FarmX will invest the $10,000 prize in developing its technology and finding developers to help improve the user experience and marketing for an earlier launch date. Plans for a Spanish-language website, an international grower section, and outreach to industry are also in the works.
"A year from now we would like to be America's number 1 platform for B2B transactions between farmers and businesses, with 100,000 subscribers and corporate sponsors. In five years we want to be the number 1 platform in the produce industry worldwide."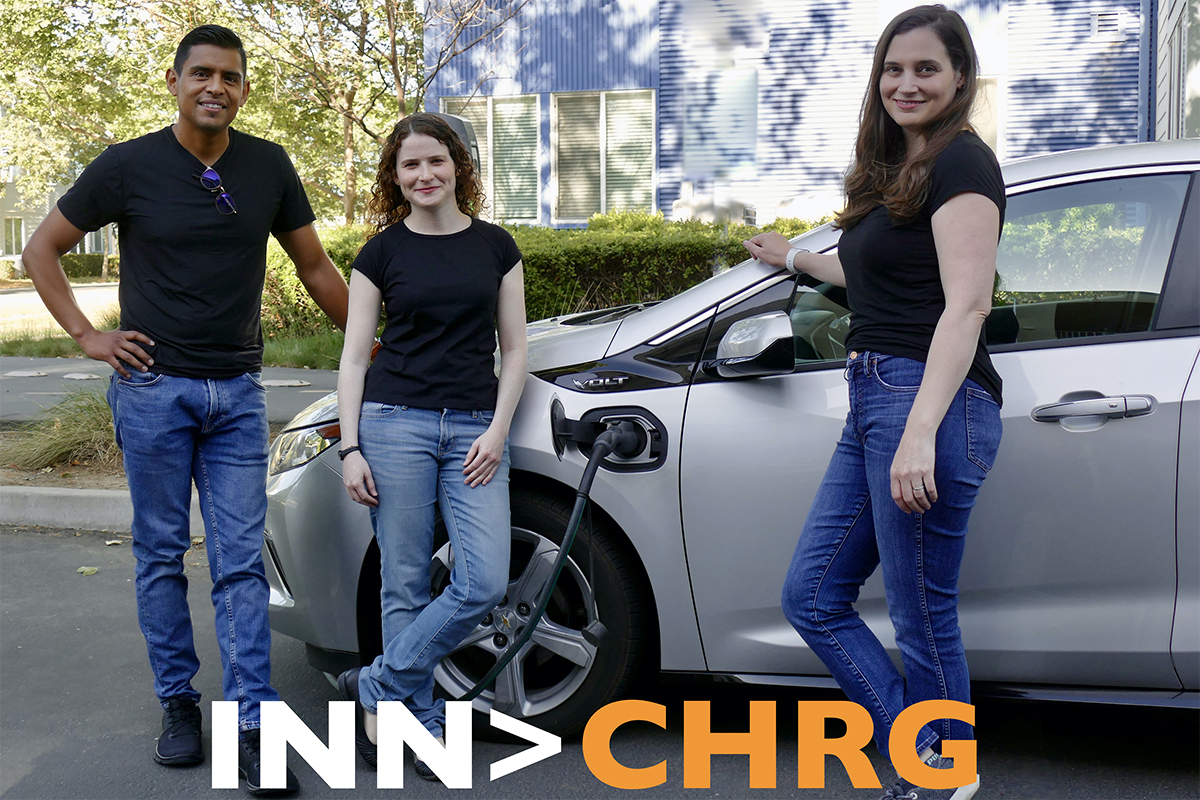 An Airbnb for EV drivers
Electricity is everywhere—but for the electrical vehicle driver in need, a charge can be hard to find.
INN>CHRG (Davis, California) has a solution. The startup seeks to expand the EV-charging infrastructure through an online public marketplace where homes and businesses list their level-2 chargers, generating income—and providing EV drivers easy access to a local charge through an app.  
Founder and CEO Angel Daniel Melchor, an MBA student at UC Davis, said that many would-be purchasers of EVs are deterred by the cars' range and the uncertainty of finding a charging station when needed, and opt instead for conventional gas-powered vehicles, which emit harmful greenhouse gases.  
"By enhancing the EV driver electric charge experience, we can eliminate the barriers to owning an electric vehicle, which are range and charge anxiety."
The INN>CHRG team includes Koral Buch, a Ph.D. graduate researcher at the Plug-In Hybrid & Electric Vehicle Research Center at UC Davis, who serves as the startup's chief operations officer, and UC Davis MBA student Meredith Roberts, the chief business officer.
INN>CHRG won the $10,000 Energy and Sustainability Industry Award. This prize is primarily sponsored by SMUD with supporting sponsors CleanStart and Gary Simon. The funds will allow INN>CHRG to immediately invest in its Minimum Viable Product and, Melchor said, "to push our concept into stakeholders' ears, from government to industry leader, to promote partnerships. 
In a year, he hopes to be deep in series A funding and creating waves throughout the industry—and to be fully staffed, with a working app and "providing the best charge in the market."
Five years from now, INN>CHRG hopes to be a leaders in the industry with a large portion of the charging market share.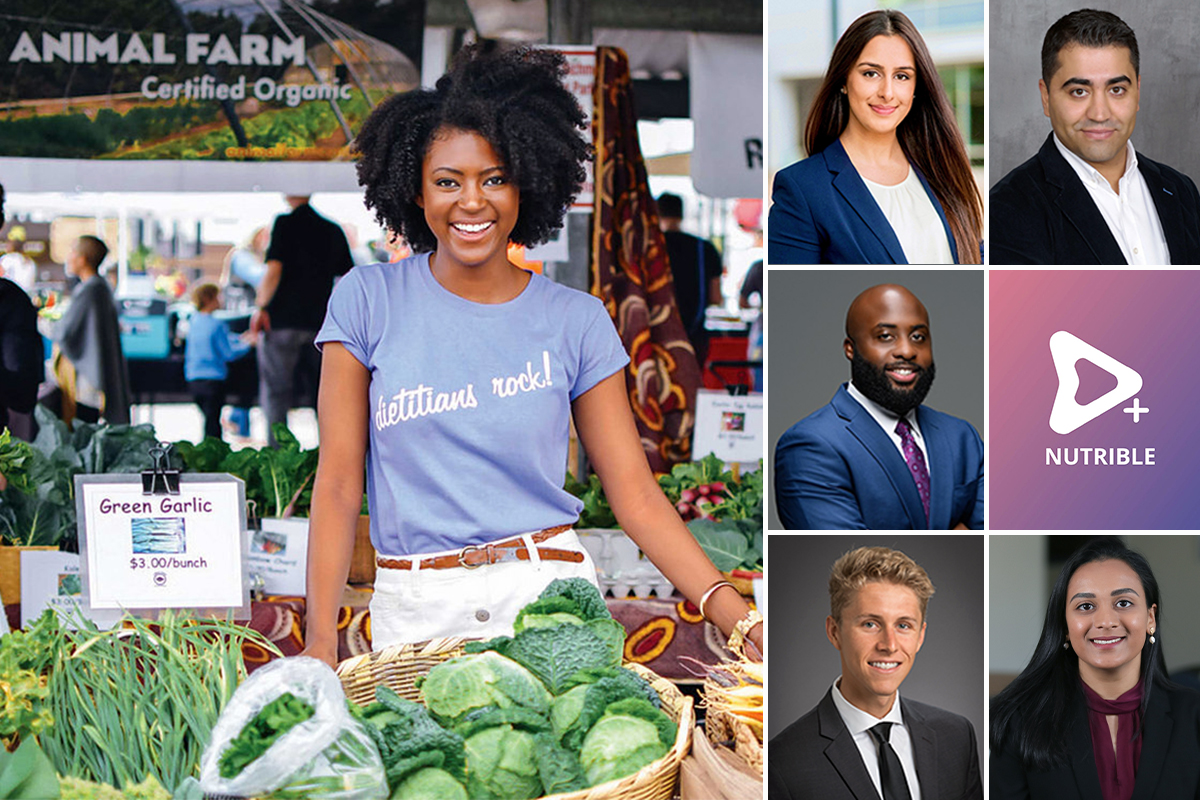 Dietary information and healthy, fresh foods available to all
When Kwamane Liddell was a trauma nurse, he traveled to health systems across the country. He noticed that most of the young patients who suffered from strokes, heart attacks and diabetic emergencies were African American and Latino.
According to the American Heart Association, not only is heart disease the leading cause of death for Americans, more than 50% of all African American and Latino adults have some form of heart disease. In all, more than 100 million Americans suffer from preventable chronic illnesses; many live in one of the country's more than 6,000 fresh food deserts and have limited access to registered dietitians.
Liddell drew on his backgrounds in nursing, health administration and law to co-found Nutrible (previously known as DispatchCare; Emeryville, California). He is joined by software engineer Navid Yousefzai, business operations director Sheena Khan, co-founder and director of community relations and policy liaison Kyle Hurst, and administrative intern Komal Patel.
"We believe everyone should have access to healthy food and proper education on how food impacts their health," said Liddell.
"Our platform gives everyone access to those resources through our virtual team of registered dietitians, who connect patients to local food banks or help them purchase the right foods online. For Medicare patients, the services are 100% free with no copayments or coinsurance." 
Nutrible will use the $10,000 Food, Agriculture and Health Sector Award to credential with Medi-Cal–managed care organizations. "Medi-Cal patients struggle to access nutrition education more than any other population in the state, and this prize will catalyze our efforts to make our communities healthier," Liddell said. AGR Partners and Gowan Co. are the supporting sponsors for this prize.
In a year, the startup aims to serve patients in every region of California. In five years, it hope to make communities healthier in every major city in the U.S.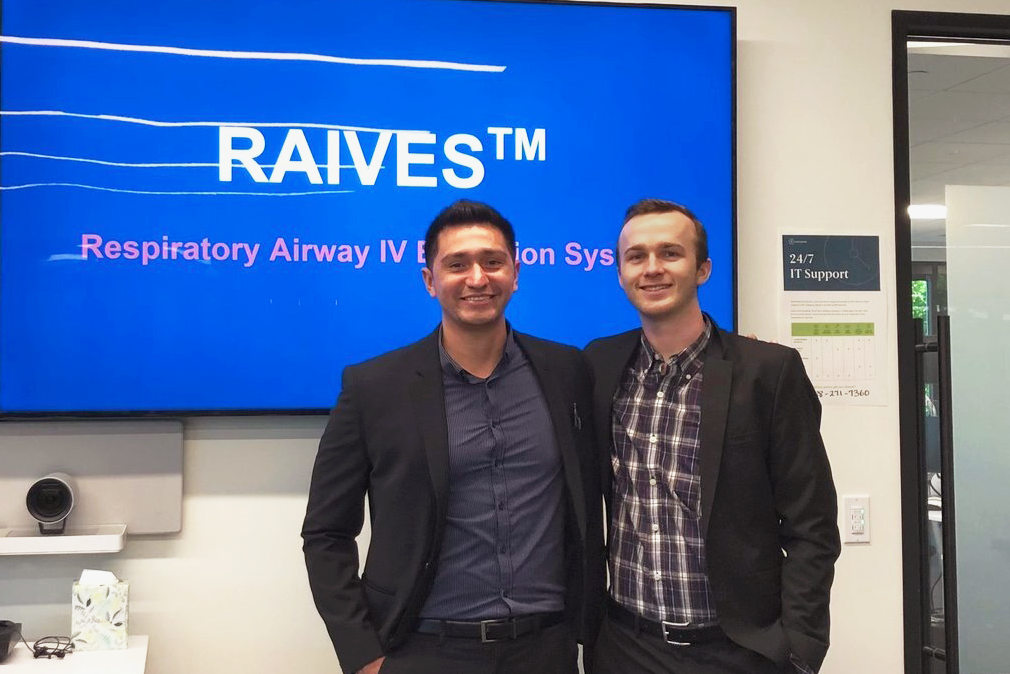 Better safety in the ICU and beyond
Antonio Braham was assisting a nurse in an intensive care unit one day when he tripped over a line that was monitoring the patient's temperature. "This dislodged, putting the patient in no immediate harm. But right next to that was an essential IV giving life-sustaining medications," Braham, an experienced patient care technician, remembered. "If things had gone differently, I could have dislodged that IV, putting the patient in critical harm."
The problem of unorganized equipment harming patient safety, staff safety and staff workflow was clear.
Braham and his business partner Chris Anderson founded Seguros Medical Products (Sacramento, California). Their first device, RAIVES (Respiratory Airway IV Extension System) standardizes the organization of IVs, monitor cables and respiratory tubing, improving patient safety, staff safety and staff workflow in the ICU and other medical facilities.
Their innovation won the $10,000 Human Health and Industry Award. UC Davis School of Medicine is the supporting sponsor for this prize. Braham says the funds will "catapult us to be FDA compliant and sets us on the trajectory for a smooth transition for piloting the product at UC Davis Medical Center [where Braham works]. We will use any remaining funds to make an injection tool for the first line of production of RAIVES."
"The Big Bang! prize funds will go a long way to providing UC Davis Medical Center and other national hospitals with a solution to a problem that medical professionals are currently using popsicle sticks and tape to address."
"In one year," Braham says, "RAIVES will be introduced into hospitals. In five years, Seguros Medical will supply safe patient handling tools to trauma hospitals throughout the U.S., progressing towards worldwide distribution."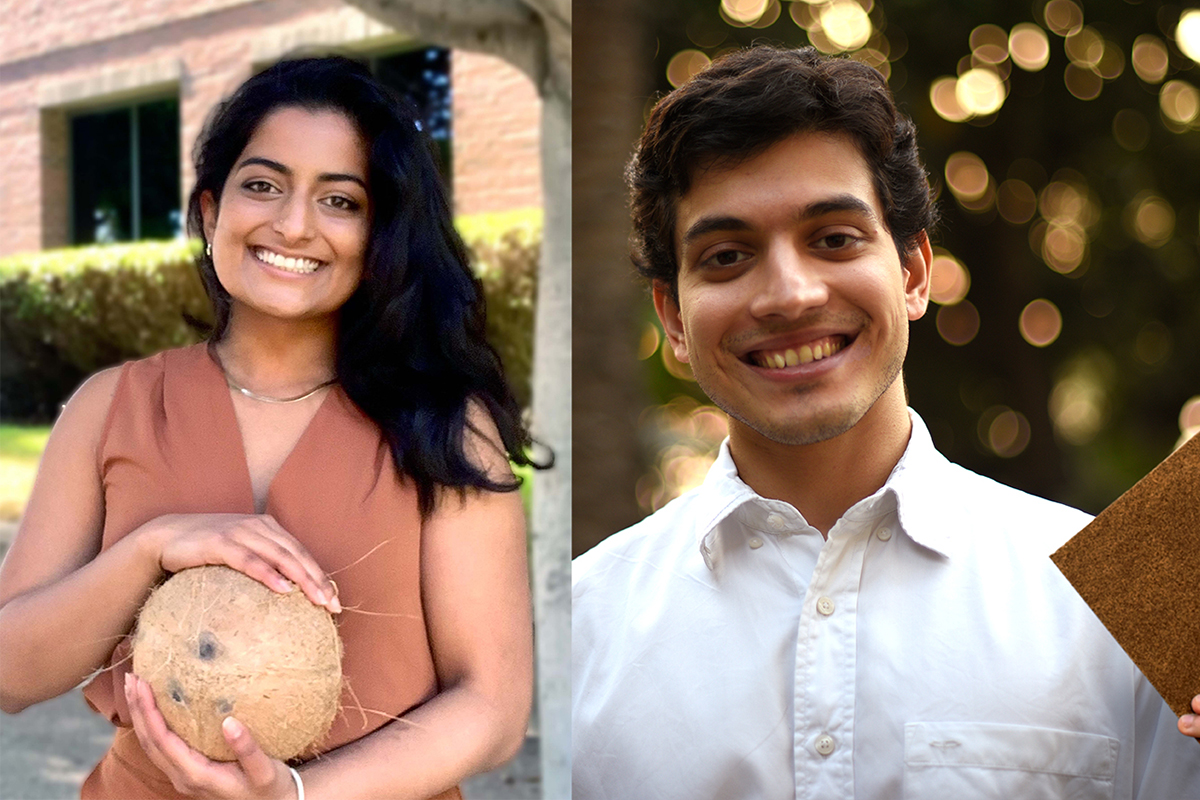 Cocoboard builds a better world 
Shailaja Chadha started thinking about the problem of human-generated waste as a high school student.
"That was when I noticed coconut husks were piled up at street corners, behind temples, mixed with nonbiodegradable trash throughout Mumbai, my hometown. It got me wondering what we could do with the waste that would be productive and impactful—and it's what led me to pursue an environmentally focused education."
"As climate change worsens, it's ever more important for us to decrease reliance on materials that are made of nonrenewable resources and have an unsustainable lifecycle."
She enrolled at UC Davis, receiving her B.S. with a major in sustainable agriculture and food systems in 2019. She continued to explore potential uses for coconut husks and one day read about a unique method of converting them into a hard, wood-like board.
Chadha founded Zaminka, which includes chief operating officer Hamza Gore, an architecture associate in Mumbai.
The startup's first product is Cocoboard, which diverts coconut husk waste from already-overflowing landfills in India and uses it to make an engineered wood alternative that—unlike plywood and MDF (Medium Density Fiberboard—uses no toxic resins or binders, making it safer for human use while maintaining its mechanical properties.
With every unit of Cocoboard sold, Zaminka supports communities in need with Cocoboard-based shelters, beds, dividers and other necessary furnishings.
The startup received two in-kind awards, six-month memberships donated by AgStart and at Inventopia, each valued at $5,000. The startup incubators provide bench space and access to lab equipment.
"In the next year, I'd like to see Zaminka enter into an incubator program and make strides in securing letters of intent from potential buyers," Chadha said. "Once we have a developed prototype that has been validated as comparable or better to current options, I see Zaminka entering into an accelerator program to get increased visibility, credibility, an opportunity to refine the prototype and business further, and a chance to raise capital that could help us launch a pilot plant in India and begin manufacturing Cocoboard and Cocoboard-based products."
Primary Category