April 17–18, 2021
Do you want to use your ideas and education to help solve our complex world's many challenges—but don't know how to begin?
Our Undergraduate Entrepreneurship Academy can help get you started.
UC Davis students in all majors and disciplines—from the life sciences and engineering to the humanities and social sciences—are welcome to apply for this two-session immersion in innovation and entrepreneurship.
We are all capable of being an entrepreneur, in some form or another, if we apply the right tools and empower the creator inside us.

—Sana Karimi | Sociology Major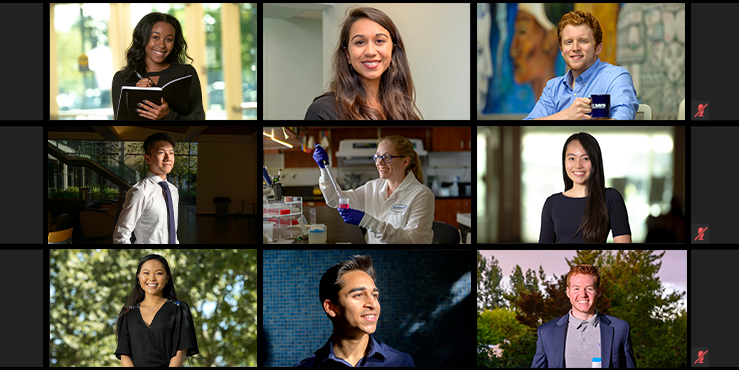 We can change the world with time and effort, regardless of the challenges that need to be overcome.

—Reece Guyon | Chemical Engineering Major
Growth Mindset >>> Solutions
Innovation and entrepreneurship is about much more than launching companies. It represents a mindset that:
Seeks solutions where others see obstacles.
Builds uncommon collaborations where others work alone.
Compels action when others are frozen by uncertainty.
Get Inspired: Join us and ...
Discover how you can harness the power of innovation to solve big problems
Understand the core concepts of innovation: creativity, commitment, entrepreneurship
Grow the initial skills to identify a problem that is worth solving
Begin to develop your entrepreneurial mindset
You do not have to have an entrepreneurial idea or project that you are currently working on. 
Innovate Online
The academy will take place as a Zoom webinar. Log in prepared to engage and grow through discussions, teamwork, and the energy and experience of meeting other amazing Aggie Innovators from across campus.
Innovation can stem from the motivation to fix a problem that no one else has thought to fix.

Allisa Tran | B.S. in Biotechnology
ACADEMY PROGRAM

DAY 1 | Saturday

| | |
| --- | --- |
| Time | Session |
| 10 a.m. | Introduction and Welcome |
| 10:15 a.m. | On Innovation: Creativity, Commitment and Entrepreneurship |
| 11:05 a.m. | Innovation Exercise #1 |
| 11:50 a.m. | Break |
| Noon | Uncertainties and Identifying, Defining and Solving Problems |
| 12:45 p.m. | Wrap up and Assignment |

DAY 2 | Saturday

| | |
| --- | --- |
| Time | Session |
| 10 a.m. | Reconvene and Opening Discussion |
| 10:05 a.m. | Innovation Exercise #2 |
| 10:40 a.m. | Recognizing and Validating Technology, Market and Business |
| 11:15 a.m. | Building an Entrepreneurial (Network) Mindset |
| 11:50 a.m. | Break |
| Noon | Making A Pitch: The Who, What and Why |
| 12:40 p.m. | Wrap up and Path Forward |
| 1-2 p.m. | Optional Office Hours |
I discovered the importance of staying open to learning new things and being receptive to new opportunities that come my way.

—Shail Trivedi | Mechanical Engineering Major
Moving Forward
The academy will introduce you to the innovation and entrepreneurship landscape at UC Davis and beyond. You'll learn about coursework and extracurricular activities such as the Big Bang! Business Competition, Little Bang! Poster Competitions, EQUIP, PLASMA and more can help you take your entrepreneurial experience to the next level.
Meet Your Instructor
Joe DiNunzio is the executive director of the UC Davis Institute for Innovation and Entrepreneurship and an assistant adjunct professor at the UC Davis Graduate School of Management. He is a senior executive with three decades of creative, technical and business leadership creating new ventures and building successful organizations.
Questions
Contact Sumiko Hong, special projects manager at the UC Davis Institute for Innovation and Entrepreneurship. 
Note: Support for the Undergraduate Entrepreneurship Academy is provided by Blackstone LaunchPad Powered by Techstars.